Clinton interrupted by Black Lives Matter at 'African Americans for Hillary' launch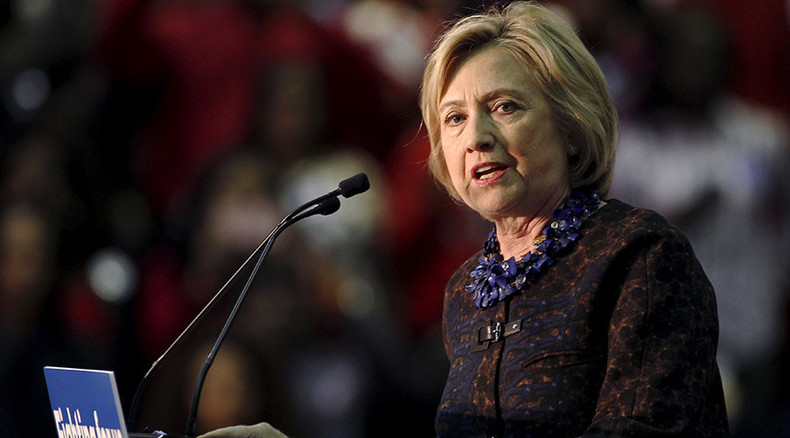 Black Lives Matter protesters disrupted Hillary Clinton's speech at the historically black Clark Atlanta University, where she planned to unveil points of her criminal justice reform platform and launch "African Americans for Hillary."
Eight protesters chanting "black lives matter" prompted the Democratic presidential candidate to go off script momentarily on Friday.
"Yes they do and I'm gonna talk a lot about that in a minute," Clinton said, her volume rising.
Three weeks prior, on October 9, Clinton met with Black Lives Matter activists, including DeRay Mckesson, who led the protest against her Friday at Clark Atlanta University. Criminal justice reform had been part of their conversation's focus, and Mckesson, in an NPR interview, said he was "hopeful that it will lead to an informed platform." That platform was set to be previewed in her speech, and rolled out over the coming weekend, according to the Clinton campaign.
"I have some issues to discuss and proposals to make if our friends will allow me to do it. They may actually find them to their liking," Clinton told the crowd, attempting to speak over the protesters' rendition of "Hell You Talmbout," a song by Janelle Monae dedicated to Black Lives Matter. Clinton supporters yelled, "let her talk!" to drown out the protest.
The protesters remained unmoved despite intervention from Rep. John Lewis (D-Georgia), a civil rights icon.
Eventually, security escorted them out where more discussions took place, including with R&B singer Usher and Clinton's head of outreach to African-Americans, LaDavia Drane.
Usher told one of the protesters, "If you cannot hear, if you cannot ask the question, and use this power you have appropriately, you'll never get the answer you're looking for," to which the protester replied, "The issue is the fact that Hillary never allowed that space to ask."
"When it's time to talk about black issues and real life on an American platform, she doesn't. She'll say black lives matter behind cameras, but, and she'll say black lives matter to LaDavia, but she'll say black lives matter to us behind cameras, but when it's time for her to be real about black issues, she won't tell white people about that, right," Mckesson told a circle of Clinton staffers and supporters.
Drane expressed her desire to have a relationship with the protesters, but they couldn't seem to meet eye-to-eye on fundamental points. Saying, "I want to know" when the group finds something the campaign is doing to be wrong, Mckesson replied, "This is wrong. You don't see how this could be a problem?"
"You can say 'black lives matter' but this is not the time," a woman says off camera, presumably LaDavia Drane.
Back inside the auditorium, Clinton carried on, saying, "Let's remember that everyone in every community benefits when there is respect for the law, and when everyone in every community is respected by the law."
Her platform, according to the campaign, will end racial profiling and the discrepancy in sentencing between crimes of crack and cocaine possession. More will be unveiled over the weekend they say.
"It's always an adventure," Clinton was overheard saying to her staff as she exited the stage and began talking to Drane.
You can share this story on social media: