Apple kills drone strike news app for 'objectionable content'
Published time: 29 Sep, 2015 18:49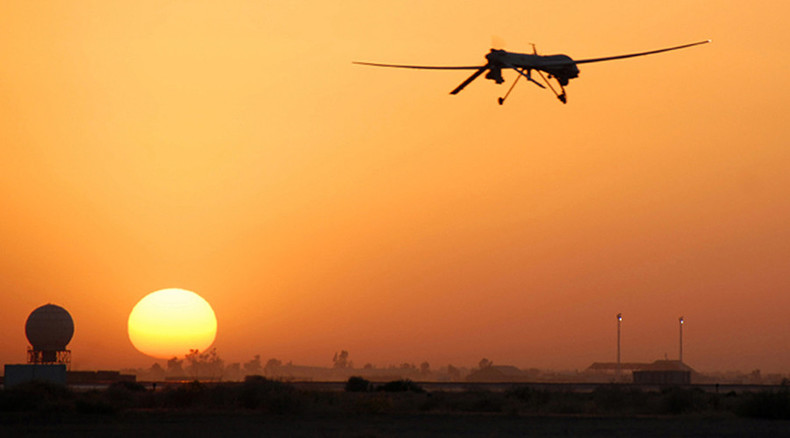 An iOS app that delivered news of United States drone strikes was taken off Apple's App Store due to "excessively crude or objectionable content." Metadata+ offered aggregated news in text format, along with maps of where the strikes occurred.
On Sunday, users of the app received a push notification alerting them that the software was no longer available from Apple's App Store.
Josh Begley, creator of the app and operator of Dronestream, a drone-strike news Twitter account, told Gawker that he would continue his work.
"I still plan to update the Twitter account as new drone strikes get reported—and Metadata+ should continue to work for everyone who has it downloaded on their phone. But new users won't be able to install it," he said.
READ MORE: FREAK encryption flaw leaves millions of Apple & Android users exposed
Begley, also an editor at The Intercept, the news outlet associated with journalists close to NSA leaker Edward Snowden, said Apple's decision "comes on the heels of Apple pulling 300 apps from the store due to malware. The infected apps were made possible by a modified version of Xcode (a tactic first developed by the CIA, which Jeremy Scahill and I reported on here)."
As Gawker pointed out, Apple's App Store is littered with inane and crude apps that have little use or entertainment value. Yet Begley created his news app in 2012, and Apple rejected five times, saying it was "not useful or entertaining enough."
After all the rejections, someone from the Apple Review Team told Begley that if the app specifically focused on US drone strikes, "it's not going to be approved." Begley told Mashable in 2014 that he erased all mention of drone strikes to be approved by Apple.
READ MORE:CIA worked to break into Apple devices for years – Snowden docs

"But if you broaden your topic, then we can take another look," Begley was told by Apple. "You know, there are certain concepts that we decide not to move forward with, and this is one."

Begley's app was approved seven months ago after he submitted it without information on drones. He then added the drone strike catalogue after that approval.
Begley also has a backup app to Metadata+, known as "Ephemeral," which offers the same news that Metadata+ did, but has flown under Apple's radar given its App Store entry features generic art and text, obscuring its true function.
More than 5,000 people have been killed by US drone strikes since 2004, according to the Bureau of Investigative Journalism, which is credited with gathering the most comprehensive data on drone strikes based on news reports and other sources. The US government does not make public any casualty figures related to the secretive, CIA-run program, nor of strikes operated through the US military.
READ MORE: Pentagon to expand drone flights by 50% in next 4 years
The expansion of the drone program since 2009 to surveil and police the world may be the most indelible mark on the Obama administration's tenure in Washington. The administration has used technological advances in unmanned lethal drones to revolutionize warfare overseas.
Capable of surveillance functions and firing missiles, Predator and Reaper drones have been used to attack targets – with much danger to civilians, according to numerous reports – in Afghanistan, Iraq, Pakistan, Somalia, and Yemen. The strikes go on without an international legal framework and with only America's take-our-word-for-it assurances that lethal drones are guided by some sort of ethical or moral compass.
READ MORE: 'Gambling with lives': Private contractors pick US drone targets, says report
US officials avoid acknowledging the CIA drone strikes, preferring instead to assure the public that any strikes are used against top Islamist militants when capture is not available. The New York Times reported in May 2012 that those targeted for strikes – Obama's 'kill list' – are cleared through the White House during weekly meetings dubbed 'Terror Tuesdays.'
As for Apple, the dominant tech company was shown to be a prime partner of the National Security Agency's vast spying programs revealed by whistleblower Edward Snowden in June 2013. While Apple has pushed back in recent months against the US government's surveillance demands, the company has been highly complicit with government spying operations. It was allegedly aware of the NSA's vast data collection before they were revealed and, later, supported tepid reform of NSA spying that simply put data collection responsibility on the backs of telecommunications companies, not the government.