It takes 28 civilian lives to kill a single terrorist leader – UK human rights group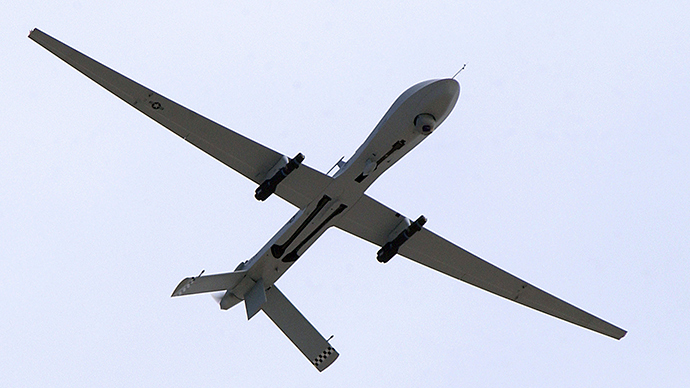 Eliminating a specific terrorist leader is a 'targeted killing' according to the US. However, Britain's Reprieve human-rights group calculated that it takes about 28 innocent lives to take out a single terrorist leader, often with multiple drone strikes.
The UK human-rights group gave The Guardian the latest statistics (November 24) compiled by the Bureau of Investigative Journalism, on collateral damage from American drone strikes in Afghanistan, Pakistan, Somalia and Yemen.
The statistics are the most striking in 10 years: attempts to kill 41 terrorist leaders resulted in the deaths of an estimated 1,147 people, the vast majority – civilians and families.
"Drone strikes have been sold to the American public on the claim that they're 'precise'. But they are only as precise as the intelligence that feeds them. There is nothing precise about intelligence that results in the deaths of 28 unknown people, including women and children, for every 'bad guy' the US goes after," said Jennifer Gibson, who headed Reprieve's study.
Over the decade of ever-intensifying drone strikes in countries Washington has never actually declared war on, thousands of civilians have been killed - something the US has consistently denied.
"The only people we fire a drone at are confirmed terrorist targets at the highest level, after a great deal of vetting that takes a long period of time. We don't just fire a drone at somebody and think they're a terrorist," The Guardian cited the US Secretary of State John Kerry as saying at a BBC forum in 2013.
Yet the statistics speak for themselves: it takes dozens, sometimes hundreds of lives to eliminate a single Al-Qaeda or Taliban warlord.
Over the last eight years there have been several attempts to eliminate an Al-Qaeda leader called Ayman Zawahiri. Drones have proved ineffective - the man is still alive. In two known attempts, in 2006, as many as 76 children and 29 adults were killed.
If Zawahiri's name sounds familiar to some Americans, this definitely cannot be said about Qari Hussain, a former deputy commander of the Pakistani Taliban.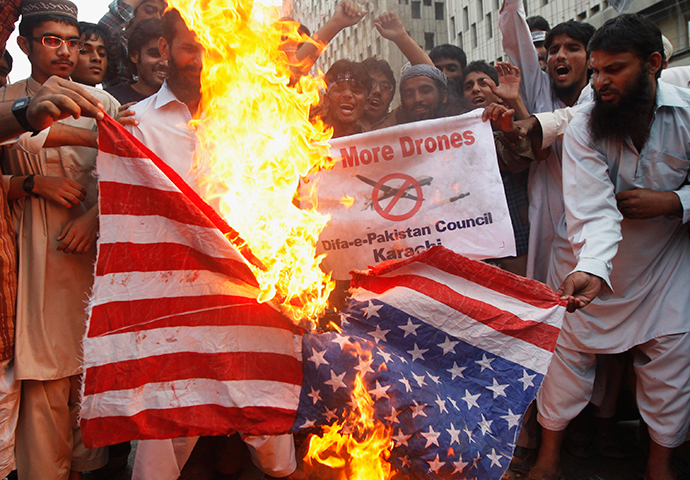 In 2008-2010 there were four attempts to get this man before missiles from an American drone killed him. But there was collateral damage: the US drones accidentally killed 128 people, including 13 children.
Most of the terror suspects were targeted in Pakistan, where a drone hunt after 24 terrorist leaders resulted in the deaths of 874 people, 142 of them children. The mission registered only six successful strikes.
This makes the terrorist/civilian drone death ratio in Pakistan as high as 1:36.
In Yemen, 273 people were killed (including at least seven children) in drone airstrikes targeting 17 terror suspects (terrorist/civilian death ratio 1:16).
However, 41 terrorist deaths claimed can't actually be confirmed. Some have apparently been proclaimed dead twice, some have disappeared from American intelligence radar, and also identities have been mistaken. Others were even found dead under circumstances different from drone strikes.
There were 33 confirmed drone kills of the named targets, yet 947 people died in the attacks.
The statistics presented by Reprieve don't cover other types of American drone strikes. These are the so-called 'signature strikes' against groups of people whose activities appeared to be 'suspicious.'
The usually conservative US Council on Foreign Relations think tank assesses that in Afghanistan and Iraq, alone, some 500 drone 'signature airstrikes' have killed 3,674 people.
All CIA or Joint Special Operations Command drone strike operations are conducted in strict secrecy. Any information that is leaked is done so anonymously. So the data compiled by Reprieve is far from being complete.
"President Obama needs to be straight with the American people about the human cost of this program," Reprieve's Jennifer Gibson told The Guardian. "If even his government doesn't know who is filling the body bags every time a strike goes wrong, his claims that this is a precise program look like nonsense, and the risk that it is in fact making us less safe looks all too real," Gibson said.
You can share this story on social media: