Effectiveness of Obama's drone program questioned as terrorist attacks surge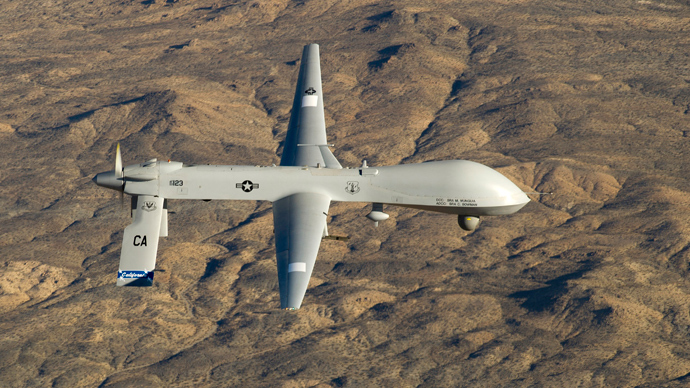 The chairman of the House of Representative's Permanent Select Committee on Intelligence is questioning the White House's counterterrorism strategy amid an increase in violent attacks across the globe.
Rep. Mike Rogers (R-Michigan) raised concerns over United States President Barack Obama's foreign policy during an interview this week with Fox News.
At a time when terrorism attacks around the world remain rampant, the US has significantly scaled back its use of unmanned aerial vehicles, or drones, which had up until recently been the administration's signature method of eradicating alleged extremists in locales such as Pakistan, Yemen and Somalia.
A recent report from the West Point Counterterroism Center determined that more than 60 terror attacks have been conducted internationally this year, while the US has been linked to only 22 drone strikes targeting terror-affected countries during that same span.
"It's not diminishing," Rep. Rogers said of the continuing terrorist attacks during an interview with Fox News on Tuesday. "There have been counterterrorism changes made by the administration that have concerned us all, things that we've been working on for a period of months that we're trying to work through that are very, very concerning. This is no time to retreat."
Most recently, an incident at a shopping mall in Kenya last week yielded over 60 deaths and has been attributed to the Somalia-based group al-Shabab.
During an address in Washington earlier this year, Pres. Obama said his administration was entering "a new phase" with regards to its counterterrorism strategy. Speaking broadly of America's use of drones against suspected terrorists overseas, the president said, "To say a military tactic is legal, or even effective, is not to say it is wise or moral in every instance."
"For the same human progress that gives us the technology to strike half a world away also demands the discipline to constrain that power -- or risk abusing it," Obama said.
On his part, Rogers has long defended the use of drones to combat terrorism overseas, and approved of the Obama-authorized strike in 2011 that killed Anwar al-Awlaki, an American citizen suspected of being involved with AL-Qaeda.
"This was a tool that we could use to stop further terrorist attacks against Americans," Rogers told CBS News in February.
Indeed, the White House has continued the use of UAVs against suspected terrorists, albeit not with the same intensity as during earlier years of the Obama administration. A drone strike in Pakistan last week believed to be launched by the US has been credited with killing six suspected militants. Pakistan's Foreign Ministry said in response that "strikes are counter-productive, entail loss of innocent civilian lives and have human rights and humanitarian implications."
In August, US Secretary of State John Kerry hinted that America's drone operations in Pakistan could soon be suspended entirely.
"The program will end as we have eliminated most of the threat and continue to eliminate it," Kerry said last month. "I think the president has a very real time line, and we hope it's going to be very, very soon."
You can share this story on social media: