Deadliest US drone strike since 2013 reported in Pakistan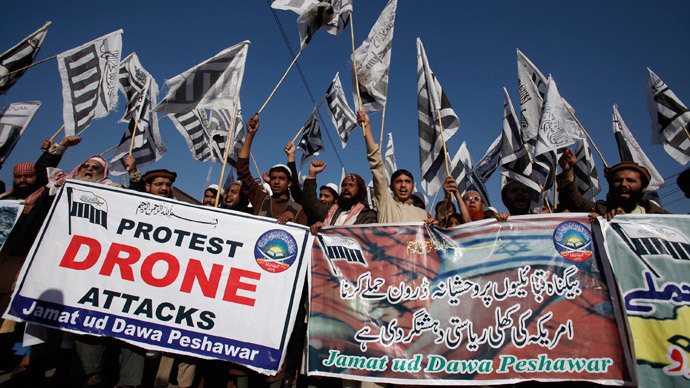 At least 50 people are dead after airstrikes hit northwestern Pakistan on Wednesday, and at least 15 of those were the result of a suspected American drone strike.
Some officials also believe the drone strike's death toll could be around 20 or higher. Either way, it's the deadliest single drone-related incident since July 3, 2013, when 16 people were killed.
According to the Washington Post, the United States had two targets in its sight when it launched the Wednesday attack in North Waziristan: a house and a vehicle that was driving past. One villager claimed that at least four missiles were fired, and local officials said the targeted area is thought to be sheltering members of the Afghan Haqqani network and militants from Uzbekistan.
"The compound was being used by foreign militants, and some local terrorists were present in the vehicle that got targeted," an unidentified Pakistani intelligence official told the newspaper.
Although the drone strike is believed to be carried out by the United States, government officials did not comment on the matter. Drone-related activity has declined in the recent past, but President Obama has said they will continue as necessary.
The drone strike marks the second such attack to occur in the area in less than a week. On July 10, six or seven people were killed by a drone. The spike in activity comes as the Pakistani military continues its offensive in North Waziristan, where it claims some 450 militants have been killed in the last month. Military officials are looking to disperse Pakistani Taliban members along with other militants who have taken up camp in the area, using it to launch attacks in both Pakistan and Afghanistan.
On Tuesday, Pakistani officials said they had also captured senior Pakistani Taliban leader Adnan Rashid as he attempted to make an escape.
As reported by the Bureau of Investigative Journalism, the most recent drone strike is notable for killing more than a dozen people. On average, strikes during the month of June killed four people each time. Overall, 35 drone strikes have occurred in the immediate area since 2004, killing at least 109 people. Almost half – about 50 – are believed to have been civilians.
In addition to the drone strike, Wednesday saw Pakistani airstrikes kill 35 people. Government officials said these individuals were Taliban fighters attempting to leave the area.
According to a separate report, the Bureau found that 15 airstrikes in North Waziristan killed somewhere between 291 – 540 people, with civilian casualties numbering anywhere from 16 to 112.
You can share this story on social media: