US mulls taking more Syrian refugees, as complaints over lax response to crisis mount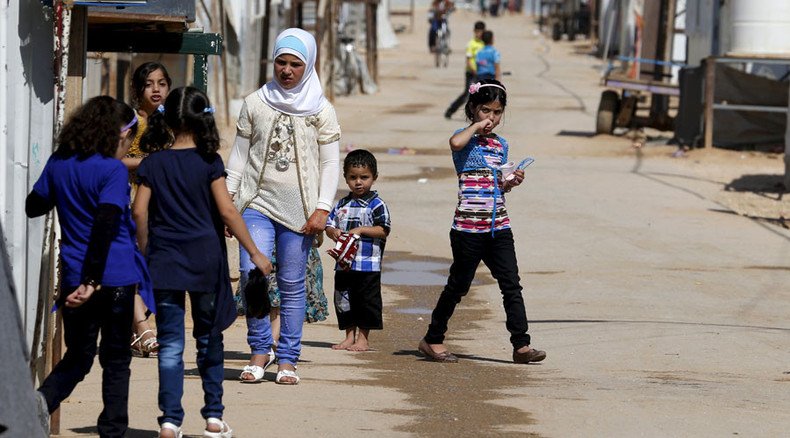 Amid international calls for the United States to accept more refugees who have fled Syria's civil war, the Obama administration says it is open to altering its response to the crisis. The US has accepted about 1,500 refugees total, much less than Europe.
"The administration is actively considering a range of approaches to be more responsive to the global refugee crisis, including with regard to refugee resettlement," Peter Boogaard, spokesman for the White House National Security Council, said Monday, though he did not offer specific measures being considered.

The United Nations High Commissioner for Refugees (UNHCR) has recommended 17,000 Syrian refugees to the US for resettlement, yet the US response in turn has been criticized as "fumbling, feeble" by the chief of the International Rescue Committee (IRC).
READ MORE: Amnesty: Shouldn't take a photo of dead refugee child 'to make politicians do the right thing'

"Over the four years of the war, the US has only taken 1,400 Syrian refugees in total," IRC head David Miliband said on NBC's Meet the Press Sunday.

"To maintain its leadership position in refugee resettlement," he added, the US should take 65,000 of the 130,000 Syrians that the UN will recommend for resettlement by the end of 2016.
By comparison, German chancellor Angela Merkel has said Germany will take in 800,000 refugees this year. US officials said in late August that between 5,000 and 8,000 Syrian refugees will be allowed into the US next year. In 2014, the US accepted only 132 Syrian refugees.
Anna Greene, IRC's director of policy & advocacy for US programs, said the amount of people taken in by the US thus far "doesn't even begin to scratch the surface of what is needed and what could really make a difference."
Larry Yungk, a top resettlement officer for UNHCR, said the US resettlement process has been slowed in recent years given the nation's heightened security concerns.

"In recent years additional security measures mean resettlement that once took 9 to 12 months, now typically takes 18 months or longer," he told AFP.

"Waiting for months or years for resettlement is difficult for refugees, especially families living in difficult and often dangerous conditions."
READ MORE: 'Beyond irreparable': UN refugee agency says it's 'broke' and 'failing'
An online, MoveOn.org petition has more than a thousand signatures calling for the White House to allow more refugees into the US. The petition signers even offered to take refugees into their homes.

The UNHCR conducts identity and status checks with the 4.5 million refugees at camps in Turkey, Jordan, Lebanon, and Iraqi Kurdistan, who have fled the war-torn nation since its civil war began in 2011.
Fourteen Democratic US senators, meanwhile, have also called for the US to accept around 65,000 refugees.

"It is a moral, legal, and national security imperative for the United States to lead by example in addressing the world's worst refugee crisis of our time," they wrote in a May letter. Former Maryland governor and 2016 Democratic presidential nominee Martin O'Malley has also called for tens of thousands more Syrian refugees to come to the US.
READ MORE: UK to accept up to 20,000 Syrian refugees – PM David Cameron

Yet Republicans in Congress are much more cautious, warning that accepting more refugees could pose "serious national security concerns."

"Screening these refugees is not a task to be taken lightly," they wrote in January in a letter to the White House. "We cannot allow the refugee process to become a backdoor for jihadists."

In June, Republican Rep. Peter King held a hearing on the issue, saying he was concerned that "terrorist groups may seek to use Syrian refugee programs as a gateway to carry out attacks in Europe and America."
READ MORE: 'Step towards normality'? Austria plans to shut emergency corridor for refugees

The Obama administration has been reluctant to take a bold stance on refugee acceptance. US State Department spokesman John Kirby said last week that "the long-term answer is not refugee resettlement, whether in the United States or elsewhere."

The Obama administration has until October 1 to establish a quota for 2016 refugees; the 2015 ceiling is 70,000 worldwide. National security concerns are cited as the Obama administration's top reason for a slowed response to refugee cases, according to officials.
READ MORE: Europe has to deal with refugee disaster caused by US – Nicolas Maduro to RT

"As compelling as it it, the situation of these refugees, our first priority is to protect the national security of the United States, to protect US citizens," US State Department spokesman Mark Toner said last week.

Toner added that the US is "the largest humanitarian donor to the Syrian conflict. We're helping refugees within Syria and outside of Syria."

The US has provided $4 billion in humanitarian assistance since the Syrian crisis began, with more than $1 billion sent this year.

Former US Secretary of State and current Democratic presidential nominee Hillary Clinton said the US must be part of a "concerted global effort" to help refugees.

"I think we need to have a broad-based global response," Clinton told the Associated Press. "The United States certainly should be at the table, but so should everybody else."
LISTEN MORE:
You can share this story on social media: