Pope Francis calls on every European parish to host a refugee family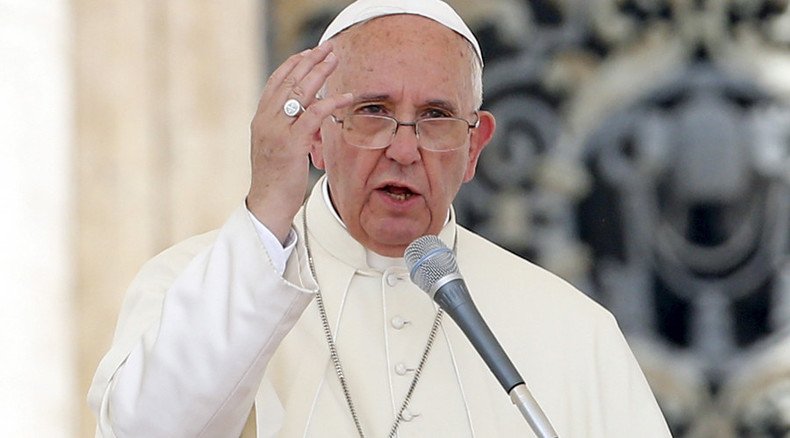 Pope Francis has called on every European parish to host one refugee family each in a goodwill gesture that will begin in the Vatican state. It comes as Europe faces the worst refugee crisis since World War II.
"I appeal to the parishes, the religious communities, the monasteries and sanctuaries of all Europe to take in one family of refugees," Pope Francis said after his Sunday address.
He added that it is not enough to say "have courage, hang in there" to the refugees making the dangerous journey into Europe.
The pontiff, whose comments were met with applause from the crowd in St. Peter's Square, also said that two parishes in the Vatican will each take in a family of refugees in the coming days.
Francis said the call to action is a "concrete gesture" to prepare for the extraordinary Holy Year on the theme of mercy, which will begin on December 8.
The call goes out to tens of thousands of Catholic parishes in Europe. There are more than 25,000 parishes in Italy alone, and more than 12,000 in Germany, where many of the refugees are hoping to settle.
This is not the first time that Pope Francis has expressed compassion for those fleeing war-torn countries. In June, he said that the mistreatment of asylum seekers "makes one cry," as they are merely "victims of injustice, of this throw-away economy" and war.
Earlier that month, the pontiff said that leaving migrants to die at sea is an "attack against life" comparable to abortion or euthanasia.
Sunday's comments come as Europe faces the worst refugee crisis since World War II. More than 350,000 refugees have crossed into the EU in 2015 alone, bound for Western Europe. Germany and Sweden are key destinations, after both countries threw open their borders to the new arrivals.
The UN refugee agency has said that Europe needs to create as many as 200,000 spots for new refugees, though many countries are reluctant to do their share. Hungary has built a massive razor-wire fence along its border with Serbia, while Slovakia has stated it wants only Christians.
The European Union has called for emergency talks on the refugee crisis on September 14. The meeting will be attended by interior ministers from each of the bloc's 28 member states.
You can share this story on social media: