Leaving migrants to die at sea is comparable to abortion – Pope Francis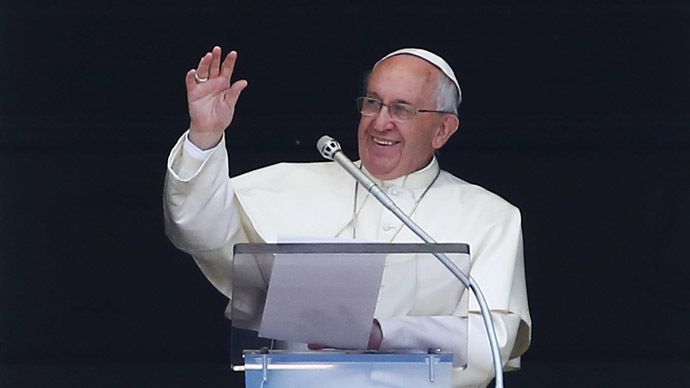 Pope Francis has described leaving migrants to die in the Mediterranean as an "attack against life" similar to abortion or euthanasia, and the resulting crisis is on a par with malnutrition or war.
"The scourge of abortion is an attack against life," Pope Francis told members of Italy's Science and Life Association, the Catholic News Agency reported.
"Leaving our brothers on boats to die in the Sicilian channel is an attack against life. Death from malnutrition is an attack against life. Terrorism, war, violence, but also euthanasia are attacks against life."
READ MORE: EU strikes against Libyan refugee smugglers will set 'dangerous precedent' – Assange
The pontiff added that a civilization's progress is not measured by its technological advancements, but rather "its capacity to protect life, especially during the most fragile stages."
He told the scientists to not lose sight of the "sacredness of every human person."
The Pope's comments came as more than 5,000 migrants arrived in Italy over the weekend, after being rescued in the Mediterranean.
According to Frontex, the European Union's border agency, 4,200 migrants were saved in 24 hours during 22 separate operations carried out by naval vessels and merchant ships.
CONFIRMED: EU forms naval op in Mediterranean targeting refugees trafficking (via @wikileaks) http://t.co/6fC6blz4bepic.twitter.com/Bc0jzaZVdT

— RT (@RT_com) May 26, 2015
Seventeen people were also found dead on three inflatable dinghies. Authorities are expected to perform autopsies on the bodies in coming days.
The significant spike in the number of people trying to cross the Mediterranean in recent weeks has been attributed to the worsening security situation in Libya, where Islamic State (formerly ISIS/ISIL) militants are gaining ground.
EU ministers have approved plans for a military operation to fight people smugglers at sea, following a series of deadly shipwrecks.
Over 40,400 boat migrants, many of them fleeing poverty and conflict-stricken countries such as Syria and Eritrea, have arrived in Italy since the start of the year, according to the International Organization for Migration.
READ MORE: Migrant crisis: UK offers drones, warships to help tackle human traffickers in Libya
Meanwhile, the Pope is not the only Vatican official to speak publicly about Europe's migration policy.
In an interview with Vatican Radio on Saturday, Cardinal Antonio Maria Veglio, president of the Pontifical Council for Migrants and Itinerant People, accused the European Union of ignoring the root causes of migration.
"What is the cause of immigration and refugees? For immigration, poverty. For refugees, war," he said. "Until there is an end to poverty and war, nothing will change."
He added that Europe never had a proper immigration program, but instead tries to "patch up" emergency situations.