EU strikes against Libyan refugee smugglers will set 'dangerous precedent' – Assange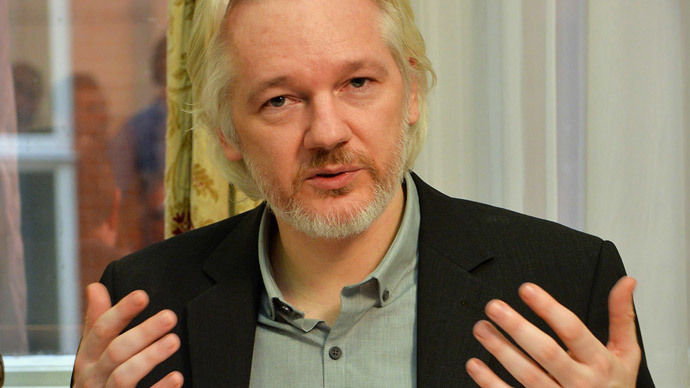 The military intervention against "smugglers" bringing migrants from Libya to EU shores will set a "dangerous precedent" for the EU to unilaterally engage in hostilities and endanger innocent people's lives, believes WikiLeaks founder Julian Assange.
The comments from the famous whistleblower follow this week's release by WikiLeaks of two classified documents revealing details of a EU plan for military intervention to curb the influx of migrants, and an information strategy to "facilitate expectation management" during such a mission.
READ MORE: EU migrant crisis: WikiLeaked docs outline naval op, reputation risk management
The documents outline plans to destroy vessels along the Libyan coast as well as to target transportation networks and infrastructure within Libya's borders.
And the use of force in such situation is something "very new," Assange told Democracy Now. "This will be the first time that the EU, as a military force – not NATO, but the EU – is engaged in hostilities."
By using force against "refugee smugglers," as the plan puts it, the EU will in effect be acting to "assist ISIS," the Australian native argues. "These are people that are being driven out of Libya by jihadists of various factions, including ISIS. So, I find it quite, you know, quite a dangerous precedent."
Assange notes that the leaked plans have one thing in mind, and that is destroying "refugee smuggling" infrastructure, apparently including people involved.
"Blowing them up, sabotaging them. Destroying them through military means is what is specified," Assange said. "The way that they're talking about the people smugglers in the document is such that you have the impression that the people smugglers themselves would be a military target," he stressed.
And regarding possible collateral damage among the refugees, Assange believes the EU "may or may not" conduct surveillance operations to ensure no civilians are hit.
"They may be unconcerned with people," he said. "They are intending to at least risk killing people in blowing up these boats," the whistleblower, noting the media information operations outlined in the leaked plan that aim at minimizing risks to EU reputation should anything go wrong.
READ MORE: EU agrees to Mediterranean naval mission to stop migration flow amid controversy
Assange went on to accuse European countries of making deals with the Libyan rebels following the ousting of Colonel Gaddafi in 2011. Having a physical presence on Libyan shores is just one way to secure economic deals, he says.
"Deals were done in terms of splits with the Libyan rebels, the splits that Italy would have, the splits that France would have," he said. "So, we may also be looking at an excuse to get on to the shoreline of Libya. They will have established a breach of Libyan sovereignty."
"Now, having once established themselves on the northern shore of Libya, there's a question about then what happens," Assange wondered.