UK to accept up to 20,000 Syrian refugees – PM David Cameron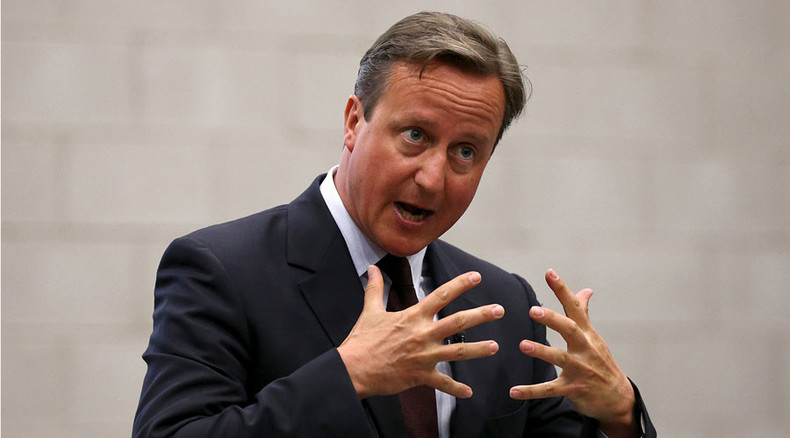 Prime Minister David Cameron has pledged to accept 20,000 refugees from Syria and other war-torn countries over the next five years in response to the escalating crisis in the Middle East and North Africa.
Speaking to the House of Commons, Cameron said Britain must "fulfill its moral responsibility" to respond to the crisis, adding the country had been moved to act by the "heartbreaking images" of fleeing refugees.
Cameron said the cost of resettling the refugees would be absorbed by the UK's foreign aid budget for the first year, in order to relieve the pressure on local councils, which would be responsible for the cost and organization of resettlement.
Because Britain is not part of the Schengen agreement, it would not take refugees making the perilous voyage across the Mediterranean, but would resettle refugees already living in camps in countries near Syria, he added.
Labour's Sir Gerald Kaufman said that Germany took in 10,000 refugees in one day, saying Cameron's target figure was too small.
"What sort of comparison is that?" he said.
The prime minister's announcement followed a revelation that RAF drones had been used in Syria to kill British nationals fighting for Islamic State (IS, formerly ISIS/ISIL).
Minister in the Lords just confirmed refugee orphans and children brought in under Cameron's scheme will be deported at age 18.

— Paddy Ashdown (@paddyashdown) September 7, 2015
Cameron said under current protocol, military action could be taken immediately if a direct threat was posed, and permission from the House of Commons sought afterward.
"First, I am clear that the action we took was entirely lawful. The Attorney General was consulted and was clear there would be a clear legal basis for action in international law" Cameron explained.
"We were exercising the UK's inherent right to self-defence. There was clear evidence of the individuals in question planning and directing armed attacks against the UK."
Cardiff-born Reyaad Khan, 21, was killed on August 21 in Raqqa, alongside two other militants, Cameron told the House. He said the strike was a direct target and no civilians had been injured.
The clandestine military action defies the Commons decision taken in 2013, which voted against airstrikes in Syria.
In a speech addressing both the refugee crisis and the UK's counter-terror strategy, Cameron said the country must take a "comprehensive approach" and tackle both the consequences and causes of the crisis, including "stabilizing the countries where refugees are coming from."
This included action in Syria, Libya and other unstable countries in North Africa and the Middle East.
Anti-war Labour leadership frontrunner Jeremy Corbyn did not address the issue of airstrikes while questioning the Prime Minister, but urged Cameron to participate in the EU-wide resettlement programme.
The announcement comes after Chancellor George Osborne hinted the government is preparing for another vote on military action in Syria.
He said on Sunday: "We've got to defeat these criminal gangs who trade in human misery and risk people's lives and kill people.
"You've got to deal with the problem at source, which is this evil Assad regime and the [Islamic State] terrorists."
The prime minister came under further pressure to order airstrikes on Saturday night, with former Defence Secretary Liam Fox calling the British response to the fundamentalist group "inadequate."
"Our response is inadequate. The policy of attacking ISIS in Iraq but not in Syria is patently absurd."
LISTEN MORE:
If there is a Commons vote on airstrikes in Syria, it is clear Cameron will argue for action against Islamic State and not against the Syrian regime of President Bashar Assad. This course of action would go against the failed vote two years ago, which suggested targeting the regime.
However, those who oppose military action say it is Assad's bombing of the Syrian people that has caused the most damage and made a bigger contribution to the numbers of fleeing refugees.
A Commons vote could be made a priority after French President Francois Hollande announced he would back airstrikes in Syria. He had previously only backed them in Iraq.