Inspiring photo: Acclaimed armless pilot hugs little girl, also without arms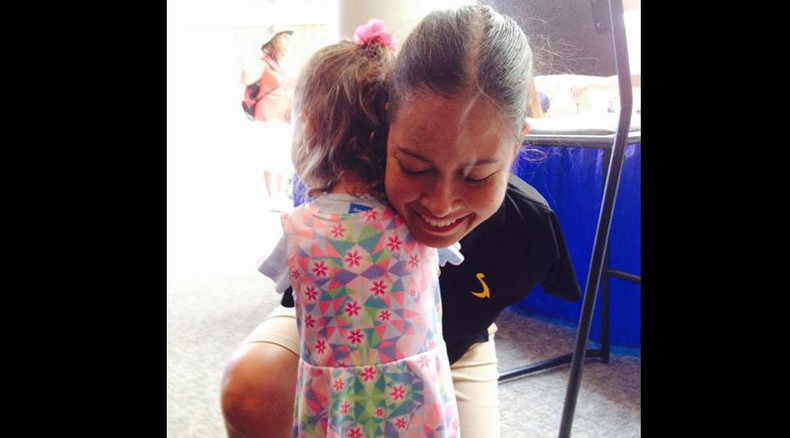 The first licensed armless pilot and motivational speaker, Jessica Cox, was caught on camera doing what she does best – going out of her way to help others. Following a mother's message and a six-hour drive, three-year-old Ruth got to meet her hero.
The two hugged in an emotional photo that proved that no matter what you are born with in life, compassion and solace only require you to have a heart.
The photo was taken July 24, at the premiere of Cox's documentary, "Right Footed," which depicts her life in Oshkosh, Wisconsin, and her path to overcoming all the seemingly insurmountable obstacles in her life, while achieving more than many other able-bodied people in the process.
The little Ruth Evelyn ('RE') Pranke, like Jennifer, was born without arms. Her mother had been a fan of Cox's all through her pregnancy and couldn't wait to introduce her daughter to such an accomplished human being.
Aside from her other accolades, Cox is also a third degree black belt. That is aside from the swimming, skydiving and a whole host of other physically-challenging stuff she enjoys doing. And yes, Cox also drives hand-free.
READ MORE: Viral video shows Illinois officer helping mentally disabled woman

The meeting was arranged after Karlyn Pranke contacted Cox via Facebook. This was followed by six hours in a car to get to the premiere.
"It was amazing… I'm just grateful that we had the opportunity to show everyone that it doesn't matter if you have arms or not, that you can do the same things as everyone else – you just may have to do it a little differently," Pranke told ABC.
"I started Googling stuff and coming across Jessica," she said. "Ever since, it's been very inspirational to me that she has come as far as she has to overcome her disability – and my daughter has always said, especially lately, 'I want arms, I want arms.'
"I wanted her to see she doesn't have to have arms," Pranke said. "I wanted her to see all the things Jessica can do."
Cox was genuinely surprised that the pair had made such a big journey. "They wanted to meet me, hear my story, and show RE that she's not the only one. It was just as important I think for RE's mom to meet me and reassure her that her daughter is going to be just fine."
READ MORE: Bionic exoskeletons for disabled children crowdfunded in Spain

Cox believes the encounter with little Ruth is of great importance to everyone affected by the condition. "When I meet a child without arms, it feels like I'm giving back," she says. "It's that feeling of 'Oh, I'm going to be OK. I'm going to be able do everything this woman did,' is what I'm giving back to RE and other children. It's saying, 'I'm going to be just fine.'"
The two are now in touch, and Jennifer helps Ruth with advice on how to live a full life.