Paradise lost: Al-Qaeda deprives ISIS of heaven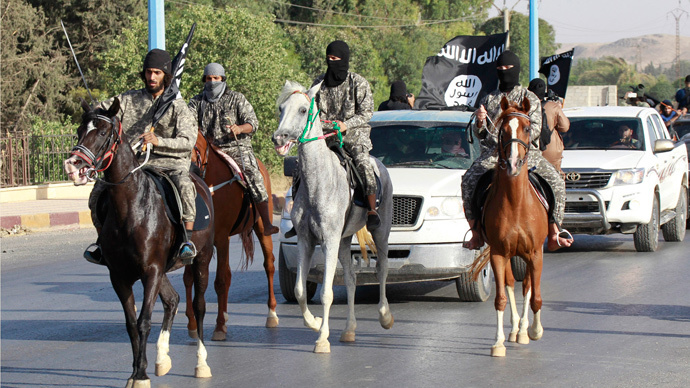 Al-Qaeda's American mouthpiece says atrocities being perpetrated by Islamic State are utterly unspeakable, and will prevent perpetrators from entering 'paradise' if they continue to sin against their Muslim brothers and sisters.
American citizen, Adam Yahiye Gadahn (born Adam Pearlman), admonished "dear brothers" in arms from Islamic State (IS, formerly ISIS/ ISIL) for the horrors they are committing against Muslims. He warned that if they don't stop it will be 'easier for a camel to go through the eye of a needle' than for IS fighters to get to Islamic heaven.
READ MORE: US officials warn of ISIS-inspired attack through July 4
While no one can deny the military "strength and prowess" of Islamic State, "the crimes it has committed against Muslims cannot simply be overlooked or forgotten with time," said Gadahn in Al-Qaeda's online magazine, explaining "there is no statute of limitations" in Islam.
READ MORE: 19-year old North Carolina man charged for trying to start pro-ISIS guerilla war
"If these wrongs are not brought to an end and rectified here in this world, then a severe punishment has been promised both for those who committed them as well as those who encouraged, condoned or justified them, even if from behind a computer or mobile phone thousands of miles away," said the Islam convert once indicted for treason by a US jury.
READ MORE: White Americans bigger terror threat than Islamic extremists – study
Any kind oppression of is wrong, Gadahn said, and "[there] will be darkness for its perpetrators on the Day of Judgment."
"The Ummah's [Muslim community] jihad is not a video game; it is real life, with real consequences, in this world and the next," said Gadahn, known among terrorist circles as "Azzam the America", who also went under the alias Abu Suhayb Al-Amriki.
California-born Gadahn has already allegedly met his maker and has perhaps verified his philosophic conclusions. He is believed to have been dead since January, when he was killed in an Al-Qaeda compound on the Afghanistan-Pakistan border, along with two Italian citizen who were being held hostage.
READ MORE: US drone strikes kill US, Italian hostages in Pakistan
Details of his death vary: he was either killed accidently in an American counter-terrorism operation or died – also by accident – in a US airstrike. However, it's a known fact that some terrorists "rise from the dead" here and there, after being proclaimed deceased by the US administration.
READ MORE: Benghazi attack suspect 'killed by US airstrike' on ISIS in Iraq
The interview with Gadahn, which has just been published, was made last autumn and most its 80-plus pages criticize Al-Qaeda's "spin-off" – Islamic State.
It was not exactly Osama bin Laden's vision to "bring the wrath of the entire world" down on Iraq and Syria by "attacking and displacing largely powerless and defenseless minorities and slaughtering their men and enslaving their women and children," Adam Gadahn said.
READ MORE: A year of terror: ISIS kills over 3,000 in Syria since declaring 'caliphate' – report
Gadahn's post mortem interview was a reply to the video released by IS last week, depicting the execution of members of Al-Qaeda's Syria faction. Some were decapitated with explosives, others were drowned in a cage, while several were imprisoned in a car and eliminated with an RPG rocket-propelled grenade.
Last Friday was blackened with a number of shocking terror acts, for which IS claimed responsibility. The worst of the attacks was on a beach in Sousse, Tunisia, where a gunman opened fire and killed at least 38 people, predominantly foreigners.
3 fatal terror attacks on 3 continents within hours after ISIS calls for 'month of disasters' http://t.co/GCYHhis8bapic.twitter.com/rgNLNls6jG

— RT UK (@RTUKnews) June 26, 2015
Islamic State also claimed responsibility for an explosion at a Shiite mosque in Kuwait's capital, which took place during Friday prayers. At least 27 people lost their lives and 227 were injured, according to the health ministry.
READ MORE: 27 dead, 227 injured in Shiite mosque blast in Kuwait, ISIS claims responsibility (VIDEO)
There was also an IS-inspired attack on a gas processing plant in Lyon, France. This was largely botched, but resulted in two deaths, including the perpetrator himself.