A year of terror: ISIS kills over 3,000 in Syria since declaring 'caliphate' – report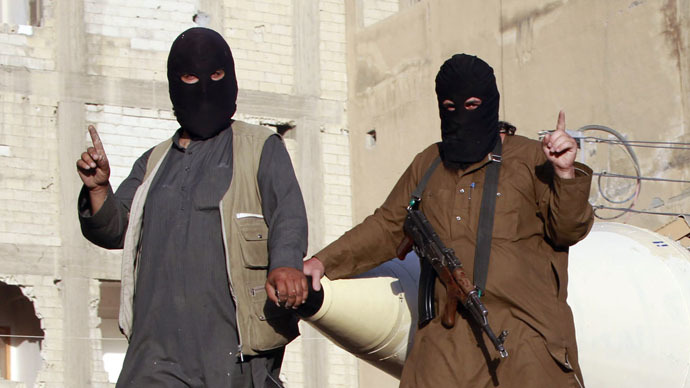 Islamic State (IS, formerly ISIS/ISIL) has executed more than 3,000 people in Syria alone, of which 1,700 were civilians, since the group proclaimed themselves as a caliphate on the territories of Syria and Iraq as of June 29, 2014, a monitor group said.
The UK-based Syrian Observatory for Human Rights monitoring group told AFP it had documented a total 3,027 confirmed executions by IS, including 1,787 civilians, 74 among of them children.
About half the civilians killed were from the Syrian Sunni Shaitat tribe, and 930 more victims were from a clan in Deir Ezzor, which faced mass executions after rebelling against Islamic State last year.
The death toll also includes victims of a recent IS attack on the Kurdish town of Kobani, which claimed the lives of 223 people this week.
During the year since the IS declared the "caliphate," the group has executed 216 members of rival rebel fractions and Kurdish fighters, as well as about 900 government troops, the Syrian Observatory for Human Rights said.
Islamic State also put 143 of its own members to death, accusing them of spying or catching them as they were deserting. Another 8,000 IS members died in armed clashes, or as a result of US-led air strikes, the Observatory adds.
READ MORE: Fatal Friday: Scores dead after France, Tunisia & Kuwait hit by terrorist attacks
Islamic State originally emerged in Syria in 2013. Then an Iraqi affiliate of Al-Qaeda, it proposed merging with Al-Nusra Front, another Al-Qaeda group operating in Syria. Rejecting the idea, Al-Nusra became a rival of IS, and later proclaimed its own "caliphate," proclaiming its leader Abu Bakr al-Baghdadi as "Caliph Ibrahim."
You can share this story on social media: