Benghazi attack suspect 'killed by US airstrike' on ISIS in Iraq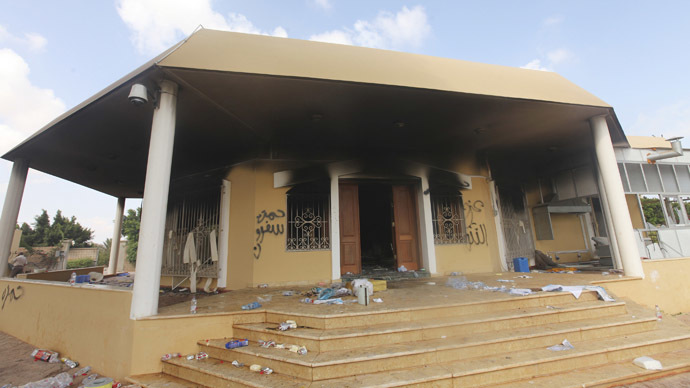 A notorious Islamic State militant has reportedly been eliminated in a US drone attack in Iraq. The man is believed to have been among the organizers of the assault by Islamists on the American diplomatic compound in Benghazi, Libya, in 2012.
The airstrike that allegedly killed Ali Awni al-Harzi, a "known Islamic State of Iraq and the Levant operative and organizational intermediary," took place a week ago, on June 15, in the northern Iraqi city of Mosul, the Pentagon reported late Monday.
Tunisian national Al-Harzi, who was put on the US State Department's global terrorist list in April, was suspected of having operated throughout North Africa and the Middle East in close cooperation with Islamic State (IS, formerly ISIS/ISIL) extremists, Defense Department spokesman Colonel Steve Warren said in a statement.
"His death degrades ISIL's ability to integrate North African jihadists into the Syrian and Iraqi fight and removes a jihadist with long ties to international terrorism," Pentagon's statement said.
Ali Awni al-Harzi latest picture, supposed to be in #Iraq. pic.twitter.com/iPQHvSpp3s

— Barzan Sadiq (@SeniorB) June 23, 2015
Al-Harzi "played a role in the ... attack on the US consulate in Benghazi," AP cited Adam Schiff, the top Democrat on the House Intelligence Committee.
The attack on the US diplomatic compound in Benghazi on September 11, 2012, left four American citizens, including US Ambassador Chris Stevens, dead.
The eliminated Islamist "was responsible for planning hundreds of suicide attacks across the world and was one of the first foreign fighters" to join IS, said Schiff. Al-Harzi "was also responsible for recruiting foreign fighters and sending them to the fight in Syria," the congressman stated.
Also, Ali Awni al-Harzi reportedly used to be a financial intermediary between IS and its sponsors in the Arab states of the Persian Gulf. The US Treasury claims that in September 2013 Harzi received about $US 2 million for IS from a Qatar-based financial facilitator.
READ MORE: ISIS chief alleged audio calls for 'jihad volcano' after reports of his death
Just a day before the alleged elimination of Harzi, Pentagon announced it conducted an airstrike in Libya targeting an Al-Qaeda-associated high-profile militant Mokhtar Belmokhtar, also known as Khaled Abou El Abbas.
The Libyan government confirmed Belmokhtar's death.
But three days later, on June 19, Al-Qaeda in North Africa denied reports its former leader Mokhtar Belmokhtar had been killed in a US airstrike.
"The mujahid Khaled Abu al-Abbas is still alive and well," Al-Qaeda in the Islamic Maghreb (AQ IM) said.
Mokhtar Belmokhtar had been 'killed' on a number of occasions, yet every report of his death proved false.
A similar story happened to another IS leader, Abu Bakr al-Baghdadi, in November last year. He published an audio recording calling for "volcanoes of jihad" amid reports of him being critically wounded or even dead.
An iron-clad guarantee that a terrorist has been killed could only be if his own organization confirms the death.
This happened to the leader of Al-Qaeda in the Arabian Peninsula (AQAP), Sheikh Abu Basir Nasser al-Wuhayshi, who was killed in a missile strike from a US-operated drone about the same time as Ali Awni al-Harzi. His death was confirmed by both US officials and an Al-Qaeda spokesperson on June 16.