ISIS chief alleged audio calls for 'jihad volcano' after reports of his death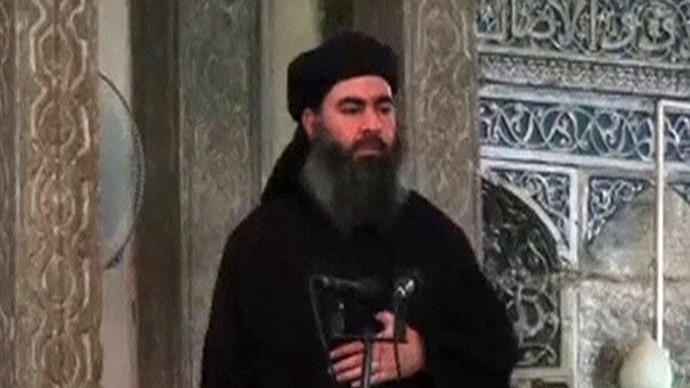 An audio calling for "volcanoes of jihad" has been posted on the internet, allegedly belonging to Islamic State (formerly ISIS) leader Abu Bakr al-Baghdadi amid recent reports of him being critically wounded or even dead.
The 17-minute audio did not make any reference to recent reports of his death or critical injury, after a US-led airstrike set off rumors that he had been eliminated. The voice alleged to be Baghdadi's also claims that the US-led strike campaign is failing.
The audio additionally stated that the caliphate had been expanded to encompass Yemen, Egypt, Libya and Algeria.
Reports of the Islamic State group's leader, Abu Bakr al-Baghdadi, being wounded in an airstrike on November 8, were confirmed by Iraqi officials and state television the next day. At the same time, the Pentagon said it had no such information.
"We do not have any information to corroborate reports out of Iraq that Baghdadi has been either killed or wounded," Colonel Steve Warren, a Pentagon spokesman, told reporters.
READ MORE: Pentagon cannot confirm if ISIS leader al-Baghdadi wounded in airstrike
The US is leading an international campaign of airstrikes against the Islamic State in Iraq and Syria. On September 22, the US, at that point without its NATO allies, launched air strikes against IS in Syria with the stated aim of preventing the extremist group from grabbing more power in the embattled country.