Pentagon cannot confirm if ISIS leader al-Baghdadi wounded in airstrike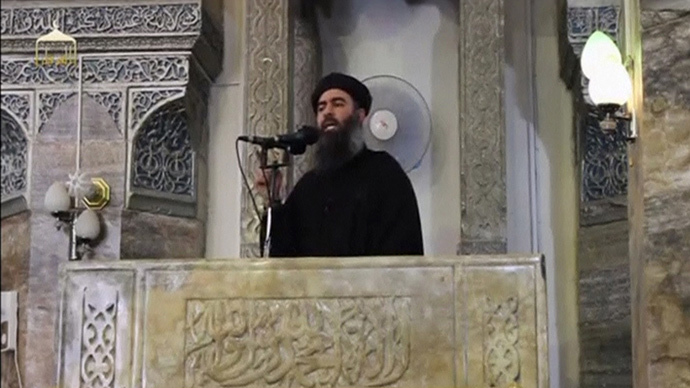 The Pentagon said Monday it was not targeting senior Islamic State leaders and has no knowledge of the fate of IS chief al-Baghdadi, who Iraqi security officials had said was wounded last week in an airstrike.
Pentagon spokesman Colonel Steve Warren said Monday that US officials cannot confirm if the most senior leader of Islamic State (IS), Abu Bakr al-Baghdadi, was killed or wounded in an air strike carried out by US forces last week.
READ MORE: Iraqi state TV confirms Islamic State group leader al-Baghdadi wounded in airstrike
Warren added that the US strikes were intended to attack the military leaders of the Islamic State, "battlefield leaders," and to degrade their ability to command its fighting forces. Abu Bakr al-Baghdadi or any other senior leader was not the target of the strikes.
"We do not have any information to corroborate reports out of Iraq that Baghdadi has been either killed or wounded," Warren said.
Abu Bakr al-Baghdadi, a self-proclaimed as caliph of the Islamic State, was reportedly "critically wounded" during an air operation in the Iraqi town of al-Qaim, tribal sources told Al Arabiya News Channel on Saturday.
On Sunday the Iraq Interior Ministry official also told the AP that al-Baghdadi was wounded near the town of Qaim near Syrian border. Though the US airstrike mentioned by Warren on Monday was near Mosul in the north of Iraq.
The strikes led by the US destroyed a vehicle convoy of 10 armed trucks late Friday near Mosul, US Central Command announced, however the Pentagon could not confirm whether al-Baghdadi was part of the escort.
Several IS-linked Twitter accounts have insisted that Baghdadi is alive and well.
On Monday Iraqi state television reported al-Baghdadi's aide Abu Huthaifa al-Yamani has been killed in an airstrike near Fallujah. However, Iraqi security officials did not confirm the death or that al-Yamani was al-Baghdadi's aide.
Islamic State has captured vast swathes of land in Iraq and Syria and declared a medieval-style radical Islamic caliphate.
READ MORE: Egyptian jihadist group pledges allegiance to ISIS
You can share this story on social media: