Egyptian jihadist group pledges allegiance to ISIS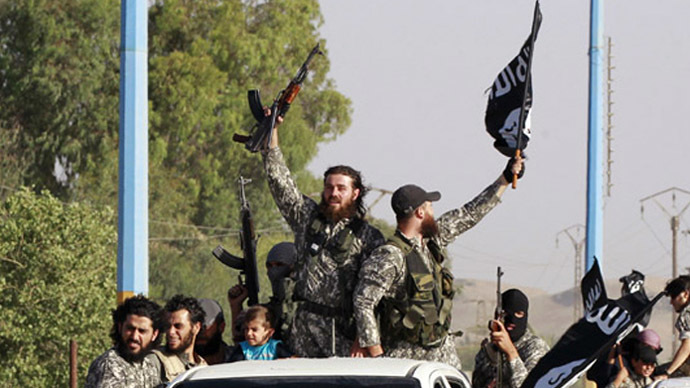 Egypt's extremist group, Ansar Bayt al-Maqdis, responsible for multiple terror attacks, has pledged loyalty to the Islamic State in an audio clip, further expanding the Al-Qaeda offshoot's influence in the region.
The audio file was posted on the official Twitter account and on the website of Ansar Bayt al-Maqdis (Champions of Jerusalem) on Sunday and is now circulating across the social media, including on YouTube.

The recording, that runs for 9 minutes and 26 seconds, says Ansar Beit al-Maqdis decided to join the Islamic State group "whose emergence resembles a new dawn raising the banner of monotheism," according to AP.

The man speaking on the audio file identifies himself as part of Ansar's "information department," Reuters reports, adding that the group's Twitter account had been suspended and reopened shortly before the Islamic State (IS, formerly ISIS) allegiance announcement was posted.

The authenticity of the declaration is yet to be verified.

Last week, there were reports of Ansar pledging loyalty to the head of IS leader Abu Bakr al-Baghdadi. The Egyptian jihadists were however quick to deny those reports.

Analysts and politicians have so far said Ansar de facto sympathizes with the IS, referring to Baghdadi, as "caliph of all Muslims."
"They are just different names for the same terrorists," Egypt's Interior Ministry spokesman Hany Abdel Latif told AFP, adding the Egyptian troops will fight Ansar regardless of whether it is part of the IS or not.
Ansar Beit al-Maqdis is a Sinai-based jihadist group which emerged following the ousting of Hosni Mubarak in the Arab Spring revolution of 2011.

The group has stepped up attacks in the Sinai Peninsula after the Egyptian military overthrew President Mohamed Morsi in July 2013.

Ansar Beit al-Maqdis' militants are believed to be behind two deadly attacks last month which resulted in deaths of 33 security personnel. Egypt was forced to declare a three-month state of emergency in parts of North Sinai, as a result.
You can share this story on social media: