British ISIS suicide bomber blows himself up in northern Iraq – report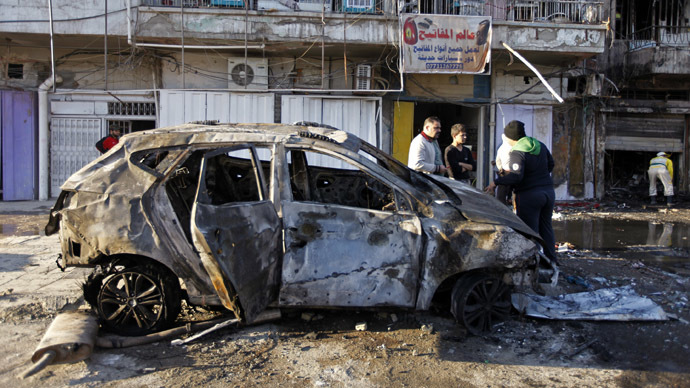 British-born jihadist Kabir Ahmed allegedly drove a truck with explosives into a police convoy in the northern Iraqi oil hub of Baiji, an expert on Islamist terrorism reports. Eight policemen have died, including a senior police officer.
Ahmed, 32, from Derby in central England, committed a suicide attack on Friday, killing himself and eight police officers and injuring 15 people. It was reported by Shiraz Maher, Senior Fellow at the International Centre for the Study of Radicalism at King's College London.
Here's two more pictures of British suicide bomber Abu Sumayyah al-Britani who carried out an attack in Baiji, Iraq. pic.twitter.com/kRESZa6MsC

— Shiraz Maher (@ShirazMaher) November 8, 2014
According to Maher, Ahmed was the second ISIS suicide bomber from the UK, and was married with children. Having called himself Abu Sumayyah, he first joined the Jund al-Sham extremist Islamic grouping in Syria and then moved on to fighting for Islamic State (also known as ISIS, or ISIL).
Abu Sumayyah (Kabir Ahmed), British suicide bomber in Iraq, was 32, married, and had children.

— Shiraz Maher (@ShirazMaher) November 8, 2014
British suicide bomber in Iraq, Abu Sumayyah (Kabir Ahmed), had criminal conviction in 2012 for calling for homosexuals to be executed.

— Shiraz Maher (@ShirazMaher) November 8, 2014
The attack happened late Friday, and targeted the convoy of Lt. Gen. Faisal Malik al-Zamel, who was inspecting forces in the town of Baiji, located some 200 kilometers from Baghdad, police said. No one has so far claimed responsibility for the attack.
Al-Zamel was one of the leaders of the operation aimed at clearing the city of Islamic State militants. "We have cleansed many of Baiji's neighborhoods and we will shortly announce its complete liberation," said Al-Saadi, another senior police officer, the Telegraph reported.
It comes after on Friday the US-led coalition launched a series of air strikes targeting 10 armed trucks of Islamic State militants. Some reports claim that Abu Bakr al-Baghdadi, Islamic State leader, was among those targeted, but the US military has not been able to confirm this information.
READ MORE: ISIS chief 'critically wounded' in US air strike on extremist leaders' convoy – reports
In February 2012, Kabir Ahmed was the first British citizen to be convicted of "distributing threatening written material to stir up hatred on the grounds of sexual orientation." Earlier this year, he also revealed to BBC that he wanted to become a "suicide bomber."
Here's a picture of Abu Sumayyah al-Britani (Kabir Ahmed from Derby), British suicide bomber in Baiji, Iraq. pic.twitter.com/ikCNFrn5cA

— Shiraz Maher (@ShirazMaher) November 8, 2014
The Guardian reported a Foreign Office spokesman as saying: "We are aware of reports of the death of a British national in Iraq and are looking into them," referring to the suicide bombing in Baiji.
You can share this story on social media: