ISIS chief 'critically wounded' in US airstrike on extremist leaders' convoy – reports
The leader of the Islamic State, Abu Bakr al-Baghdadi, has reportedly been "critically" injured in a US-led airstrike in Iraq that targeted a convoy of military vehicles allegedly carrying a group of senior ISIS members.
Abu Bakr al-Baghdadi, a self-proclaimed as caliph of the Islamic State of Iraq and the Levant (formerly ISIL/ISIS) was "critically wounded" during a US-led air operation in the Iraqi town of al-Qaim, tribal sources told Al Arabiya News Channel.
#Breaking: Reports say #ISIS chief al-Baghdadi was 'critically wounded' in latest air-raid.

— PaulaSlier_RT (@PaulaSlier_RT) November 8, 2014
The strikes, which destroyed a vehicle convoy of 10 armed trucks late Friday, targeted a "gathering of ISIL leaders" near Mosul, US Central Command announced, however the Pentagon could not confirm whether al-Baghdadi was part of the escort.
"We cannot confirm if ISIL leader Abu Bakr al-Baghdadi was among those present," CENTCOM said in a statement, stressing that US coalition continues to "pressure" the terrorist network, and the "group's increasingly limited freedom to maneuver, communicate and command."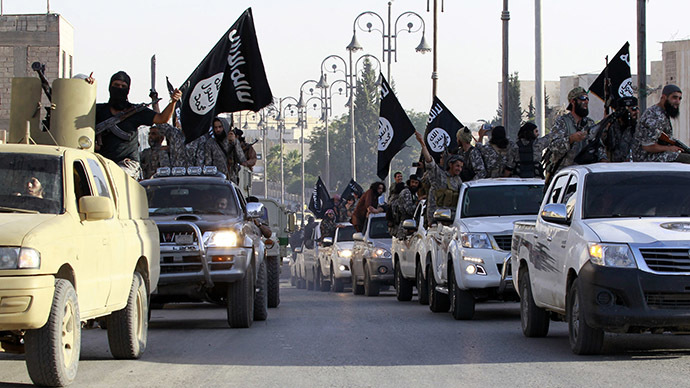 MP for Iraq's Anbar province, Mohammed al-Karbouli, confirmed the strike saying that the "international coalition aircraft targeted a meeting of ISIS leaders in Qaim city located west of Anbar which resulted in dozens of deaths and injuries and caused severe confusion among ISIS members who then cut off all roads in Qaim in order to transport their wounded to the hospital that was packed with the wounded and body parts," Iraqi News reports.
Colonel Patrick Ryder, a Central Command spokesman specified that overnight strikes near al-Qaim also destroyed two ISIS checkpoints.
"I can confirm that coalition aircraft did conduct a series of air strikes yesterday evening in Iraq against what was assessed to be a gathering of ISIL leaders near Mosul," said Ryder. At least 50 bodies were brought into Mosul's morgue, officials told Reuters.
Al-Hadath TV outlet also named Baghdadi as one of the participants of the militants' meeting targeted by US.
However, several ISIS affiliated Twitter accounts rejected the reports, saying that Baghdadi is alive and well and calling on all supporters to ignore any false news about his "death" or "entrapment."
I can report to the Muslims that Amir Al-Momineen Abu Bakr Al-Baghdadi Hafid hu'allah is alive and well. #IslamicState#Iraq RT @sheikhajmee

— State of Islam (@Dawla_accountt) November 8, 2014
Until Baghdadi's whereabouts are confirmed, nothing can be certain of his fate. Back in September, reports of his death in a US strike circulated. Thousands of social media users were tweeting photos claiming to show the body of al-Baghdadi.
Baghdadi is something of an enigma, he is believed to have been born in Samarra, Iraq in 1971. At the time of the US-led invasion, reports indicate that he was a cleric in a mosque. Some reports suggest, that he was radicalized when he was held by US forces in Camp Bucca before being recommended for release by a Combined Review and Release Board.
He reemerged as an extremist leader in Iraq in 2010, and rose to prominence with al-Nusra Front in Syria. Baghdadi and his cell have openly defied al-Qaeda.
"The true heir to Osama bin Laden may be ISIS leader Abu Bakr al-Baghdadi," as he has a reputation of a ruthless battlefield tactician, wrote The Washington Post's David Ignatius in June. Baghdadi, is believed to hold a PhD in Islamic studies from the Islamic University of Baghdad.
Al-Baghdadi has long been wanted by the US. On 4 October 2011, Washington listed al-Baghdadi as a Specially Designated Global Terrorist and placed a US$10 million bounty on his head.
READ MORE:Obama authorizes 1,500 more troops to Iraq
The latest strikes on ISIS positions come after President Barack Obama announced on Friday his plans to send an additional 1,500 troops to Iraq and a request an additional $5.6 billion from Congress to fund the effort.
You can share this story on social media: