Syria blasts Turkey for allowing Iraqi Kurdish fighters safe passage to Kobani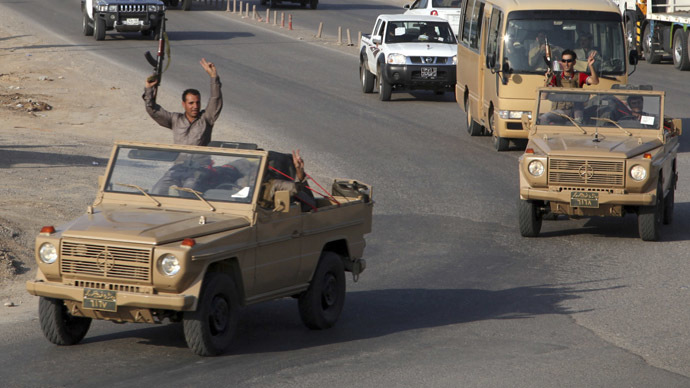 The first group of Iraqi Kurdish Peshmerga fighters has entered the besieged Syrian city of Kobani via a Turkish border crossing. Damascus has accused Ankara of "blatantly violating" Syria's sovereignty by allowing the fighters to cross through Turkey.
"Minutes ago, about 10 members of the Kurdish Peshmerga forces entered [Kobani] through the border crossing between the town and Turkish territory," the Syrian Observatory for Human Rights said on Thursday morning.
According to the British-based monitoring group, a convoy carrying Peshmerga fighters arrived near the Turkish town of Suruc on Wednesday night. They, in turn, made contact with other Kurdish fighters who had flown in earlier that day.
"The force is equipped with heavy guns including mortars, canons, rocket launchers, etc.," the Guardian cites Safeen Dizayee, spokesman for the Iraqi Kurdistan regional government, as saying on Thursday.
READ MORE: Turkey to allow Iraqi Kurds to join battle against ISIS in Kobani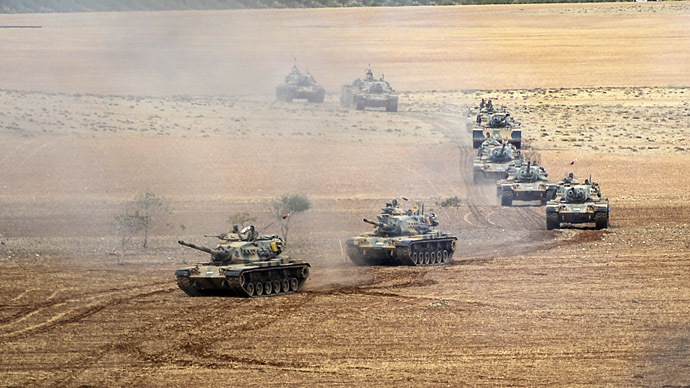 The force, sent as part and parcel of a "moral, political and nationalistic duty," will not engage in frontline combat, but rather play "a support role," Dizayee said.
He added that Kurdish fighters in Kobani, who have been fighting off a siege by Islamic State (IS) militants, needed weapons and ammunition, as they already had enough troops. Syrian Kurdish fighters in Kobani have pled for heavier weaponry for weeks to counter the well-armed IS militants. Earlier this month, the US obliged them with 27 airdrops, which included large quantities of ammunition, weapons and medical aid.
Meanwhile, the 10 fighters are part of a 160-strong group of Iraqi-Kurdish fighters who are expected to take up arms in Kobani and help reassert Kurdish control of the town. The development came as IS militants launched a failed bid to seize the border crossing point on Wednesday - the sole point of entry and exit into Kobani.
The president of Iraqi Kurdistan, Masoud Barzani, said more people could be deployed from Iraqi Kurdistan if the situation demanded it.
READ MORE: Between Kobani &Turkey: How unarmed Kurdish brigade guards restive border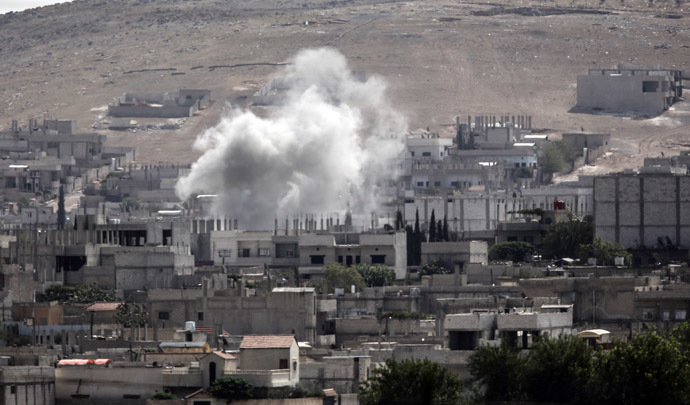 On Wednesday, a group of 50 Syrian rebels also entered Kobani via Turkey. The reinforcements, along with US-led airstrikes, are intended to drive IS militants from the city for good, which was on the verge of being overrun earlier this month. Despite scores of airstrikes, however, Kurdish forces have rolled back IS gains, but failed to break the bloody stalemate.
On Thursday, the Syrian Foreign Ministry condemned the Turkish government for knowingly allowing foreign fighters to enter Syria through its territory. The ministry described the move as a "blatant violation" of Syria's sovereignty" and a "disgraceful act."
Earlier this month, Turkey said it would allow Iraqi Kurdish fighters to transit through Turkish territory to reach Kobani. Ankara had previously been reticent about providing any support to Syrian Kurdish PYD (Democratic Union Party) forces in Kobani.
READ MORE: US sends lethal aid to Kurdish forces fighting ISIS in Kobani
Prior to the decision, Turkish President Recep Tayyip Erdogan had said that the PYD is "no different" to the Kurdistan Workers Party (PKK). The PKK is banned in Turkey as a terrorist organization for leading a 30-year struggle against Ankara in order to create a Kurdish autonomous region in the country's southeast.
Ankara's previous unwillingness to aid Kurdish forces in Kobani had drawn Washington's ire and sparked violent clashes in Turkey's southeast.