Al-Qaeda Yemen leader Wuhayshi killed in airstrike - Al-Qaeda spokesman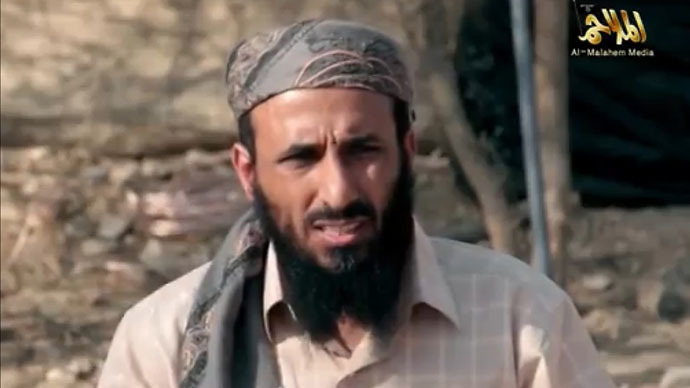 The leader of Al-Qaeda in the Arabian Peninsula (AQAP), Sheikh Abu Basir Nasser al-Wuhayshi was killed in a missile strike from a US-operated drone, US officials and an Al-Qaeda spokesperson have confirmed.
US officials called the death a "major blow" to the AQAP, according to Reuters.
The airstrike took place Friday in in the southern Yemen city of Al-Mukalla, the capital of Hadhramaut region. Two other members of al-Qaeda were killed along with al-Wahayshi.
In a Tuesday statement, the White House said:"The president has been clear that terrorists who threaten the United States will not find safe haven in any corner of the globe."
"While AQAP, al Qaeda, and their affiliates will remain persistent in their efforts to threaten the United States, our partners, and our interests, (his) death removes from the battlefield an experienced terrorist leader and brings us closer to degrading and ultimately defeating these groups," it continued.
Al-Wahayshi worked as Osama bin Laden's secretary before proclaiming himself AQAP's leader in 2008.The current leader of al-Qaeda, Ayman al-Zawahiri, appointed al-Wuhayshi as his deputy in 2013.
READ MORE: Al-Qaeda in Yemen claims directing Paris attacks as 'revenge' – reports
In January 2010, Nasir al-Wuhayshi was designated a Specially Designated Global Terrorist by the US State Department, which promised $10 million for information about the AQAP leader.
A Yemeni citizen, Al-Wuhayshi has been on the list of most wanted fugitives in both Saudi Arabia and Yemen for many years. In 2003, he was arrested and extradited to Yemen, but managed to escape from prison in 2006 along with 22 other terrorist prisoners.
After the jailbreak, Al-Wuhayshi was described as posing a "clear and present danger" by Interpol, which issued an Orange Notice against him.
The killing of the senior Al-Qaeda operative comes after reports of the death of Algerian Al-Qaeda leader Mokhtar Belmokhtar.
According to the United Nations, AQAP is responsible for attacks on the US embassy in Yemen, staging terrorist acts against counterterrorism officials and oil facilities, tourists and aid workers. The group is largely seen as Al-Qaeda's strongest branch.
READ MORE: US conducts 'counter-terrorism' airstrike in Libya, unsure of result