US conducts 'counter-terrorism' airstrike in Libya, unsure of result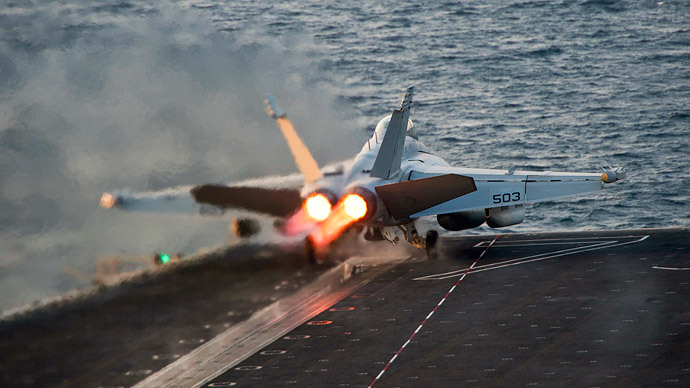 The Pentagon has announced it conducted an airstrike in Libya targeting an Al-Qaeda-associated militant, but could not be completely sure that it succeeded. The Libyan government, meanwhile, has claimed the strike killed the notorious Mokhtar Belmokhtar.
"Last night, the US military conducted a counterterrorism strike against an Al-Qaeda-associated terrorist in Libya. We are assessing the results of the operation and will provide additional information as and when appropriate," a Pentagon spokesman, Colonel Steve Warren, said.
The Pentagon has not released any details about the operation, nor the name of the alleged terrorist who was targeted. In the past, Americans have used drones to strike targets in the region. Warren did emphasize that there had been no US boots on the ground assisting the operation, Reuters reports.
UPDATE: Libyan Government says U.S air strike in Libya kills senior Algerian AQ leader Mokhtar #Belmokhtarpic.twitter.com/Edhsupskri

— News_Executive (@News_Executive) June 14, 2015
Meanwhile, Libya's internationally recognized government, which only controls a portion of the devastated country, announced that the notorious Algerian guerrilla leader Mokhtar Belmokhtar was the actual target of the airstrike.
"The Libyan government in the east of Libya confirms that the US fighter jets conducted air strikes last night in a mission which resulted in the death of the terrorist Belmokhtar," the statement reads. The operation took place "after consultation with the Libyan transitional government," which is based in the eastern city of Tobruk, the statement added.
US airstrikes target Algerian Mokhtar BelMokhtar,AQIM&AnsarSharia militants at Ajdabiya farm. Photo via @libyaheraldpic.twitter.com/vHiMitHaAR

— Libya Al Hurra (@LibyaAlHurraTV) June 14, 2015
Mokhtar Belmokhtar, a one-eyed Algerian jihadi war veteran nicknamed "Mr. Marlboro," became internationally known to special forces after orchestrating a deadly attack on an Algerian gas plant in January 2013, in which 800 people were taken hostage, 39 of whom were executed.
Belmokhtar, a former military commander of Al-Qaeda in Algeria, is also a noted kidnapper, smuggler, and weapons dealer. He began his extremist activities in 1991 in Afghanistan, joining the mujahedeen to fight against the Kabul government. He later joined the Islamist GIA and fought in the Algerian Civil War. He then served as commander in an Al-Qaeda cell based in Mali.
He was active in West Africa for at least a decade. Belmokhtar was convicted and sentenced to death in absentia twice under separate charges in Algerian courts: in 2007 for terrorism and in 2008 for murder.
In December, 2013 US State Department placed the Algerian extremist on a wanted list, placing an award of up to $5 million his head. Belmokhtar has been declared dead many times before, but the claims have never checked out.