NY food banks seek $16 million in state funding to restock their barren shelves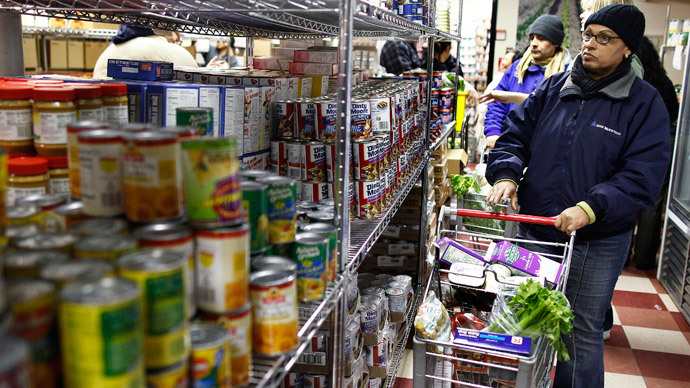 Food banks across New York state are running out of food due to rising need and falling benefits. Now they are asking the state legislature for an additional $16 million in funding, just to keep the shelves stocked through the end of the year.
Throughout New York, about 2.6 million people have trouble affording food, and must make the difficult choice between eating and paying for other necessities like rent, medication, child care or transportation, according to the Food Bank For New York City. So they turn to food pantries to help. Yet those same locations are running short on food.
"Being in New York [City], I think, is both a blessing and a curse. I mean, there is a lot of food, there is a lot of people, we're a big city, but we're also a city with very high need," Triada Stampas, Food Bank For New York City's vice president for research and public affairs, told RT's Alexey Yaroshevsky. "There's about 1.4 million New York City residents ‒ so just here in New York City ‒ who rely on food pantries and soup kitchens over the course of a year. That's about 16 percent of our population."
The Food Bank For New York City is the supplier for one of the city's biggest food pantries, where the shelves being fully stocked is the exception, not the rule, she noted.
"We're seeing food banks and soup kitchens reporting food shortages at much higher rates than they had been before," Stampas said. "In one month alone ‒ last September ‒ 60 percent of the city's food pantries and soup kitchens reported running out of food."
The situation is even worse in the rest of the state, leading Hunger Action Network to ask the New York legislature for $16 million in additional funding… just to get through the end of the year. It would be a mere drop in the bucket out of the $2.6 billion in currently unallocated funds in New York's 2015 budget, Yaroshevsky reported.
Michael Berg, the director of an organization that runs three food pantries in Ulster County, told AP that requests for food there have risen by about 20 percent each year for the last few years. In Albany, a coalition of 53 food pantries says it is seeing its highest demand in its 36-year history.
Contrary to the stereotype that people visiting food pantries are homeless and jobless, most customers are employed, but it's still not enough to put food on the table without help.
READ MORE: Food stamp usage has quadrupled among US service members since '06
"Most people who actually use pantries are actually the working poor. And they are working, they just don't get paid enough money," Susan Zimet, director of the Hunger Action Network, told RT. "Also, a lot of seniors who have not seen their Social Security increase keeping pace with the cost of food, they cannot afford food. You also have veterans, veterans are not getting paid enough to support their family and then be deployed overseas."
"On a local level, people are falling further and further behind," she added.
Food banks across the country have had to do more with less for nearly two years now, ever since the US Congress cut federal Supplemental Nutrition Assistance Program benefits ‒ food stamps ‒ by an average of $18 a month. About 40 percent of those receiving SNAP benefits then turn to emergency food services, leading to an increase in demand, according to the New York Times.
"Benefits were cut in November of 2013, and the result in New York City has been a loss of more than 56 million meals for people who were receiving them," Stampas said.
Despite the state doing "relatively well" at feeding its hungry compared to the rest of the country, New Yorkers now miss about 100 million meals each year, and 37 percent of food pantries say they have had to turn away needy people because they ran out of food, the NY Times reported.
"Dutchess County Outreach in 2013 saw an increase of 40 percent of people coming to the food bank, food pantries. Pantries up here in the Albany area have seen anywhere from a 20 to a 30 percent increase," Zimet said.
Along with asking for more money from the state, food pantries are focusing on giving their customers choice in what foods they receive, as well as cutting waste.
My report on food wasting in America and how @FoodRecovery make sure it reaches those in need http://t.co/FfUlOQMLpO

— Alexey Yaroshevsky (@Yaro_RT) February 24, 2015
"If just 15 percent less food was wasted, America could actually cut hunger in half," Ben Simon of the Food Recovery Network told Yaroshevsky.
New York lawmakers are schedule to adjourn by the end of June.