Most food stamp payments issued to working Americans for first time - report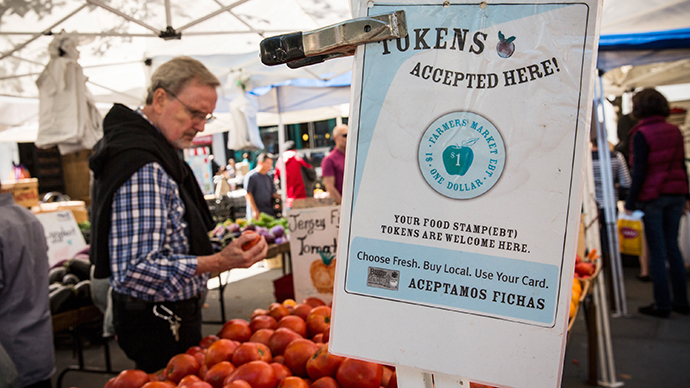 Working-age Americans now make up the majority of food stamp recipients in the US, according to a new report highlighting a stark change from the tradition of the elderly being the main recipients, and at a time when lawmakers have agreed to cut funding.
Economists at the University of Kentucky conducted an analysis of government data on behalf of the Associated Press and found that, across all age demographics, food stamp participation since 1980 has grown the most among workers with some college experience.
The food stamp program, officially known as the Supplemental Nutrition Assistance Program (SNAP), was originally created to assist Americans in times of personal crisis, although one out of every seven US citizens now rely on the program.
The government currently spends $80 billion a year on the program, a sum twice the amount it cost five years ago. The number may only continue to grow, though, as stagnant wages and a slow recovery continues to spread uncertainty throughout the economy.
It is a climate that many critics say fosters inequality, with workers' wages and salaries, in comparison with corporate profits, increasing at the lowest rate in American history. The situation has become so serious that some economists now speculate that an individual supporting himself with a single low-wage job may simply not be a viable option in the near future.
"A low-wage job supplemented with food stamps is becoming more common for the working poor," Timothy Smeeding, an economics professor at the University of Wisconsin-Madison, told the Associated Press. "Many of the US jobs now being created are low – or minimum-wage – part-time or in areas such as retail or fast food – which means food stamp use will stay high for some time, even after unemployment improves."
James Ziliak, director of the Center for Poverty Research at the University of Kentucky found that in 1998 44 percent of SNAP payments were doled out to people of working age (adults between 18 and 59). Yet the collapse of the dot-com industry combined with a recession in 2001, and then another in 2007 contributed to leaving enough people in duress that the number now exceeds 50 percent.
In 1980 a mere 8 percent of American households with some college training needed food stamps, a number that has jumped to 28 percent this year. Those who completed four-year degrees also saw an uptick, from 3 percent to 7 percent, and high school graduates jumped from 28 percent to 37 percent.
SNAP has been stressed by the disappearance of middle-class employment in the manufacturing sector, globalization, outsourcing, and the introduction of more machines into the workplace.
US President Obama is expected to address the lingering inequality issue in his State of the Union speech Tuesday night. Forecasters said Obama will explain his stance on executive actions, which do not require congressional approval, and possibly use that power to expand access to job training programs and help the long-term unemployed.
Obama's speech will come one day after politicians from the House and Senate Agriculture committees announced that have reached an agreement on a farm bill that would limit a drastic House plans to cut government spending, yet also curb benefits by approximately $800 million annually, roughly one percent.
The president is also expected to pledge his effort to raising the federal minimum wage, a decision that – while strongly resisted by Republicans – could increase not only a worker's quality of life, but also their productivity, motivation, and other employment factors.
Yet officials maintain the number of people relying on SNAP could remain high for some time. Ishwar Khatiwada, an economist for the center for Labor Market Studies at Northeastern University, told the Associated Press that the financial difficulties could continue for another decade.
"We do not expect income inequality stabilizing or declining in the absence of real wage growth or a significant reduction in unemployment and underemployment problems," he said.
You can share this story on social media: