Food stamp recipients delivered one-two punch by govt shutdown, end to stimulus boost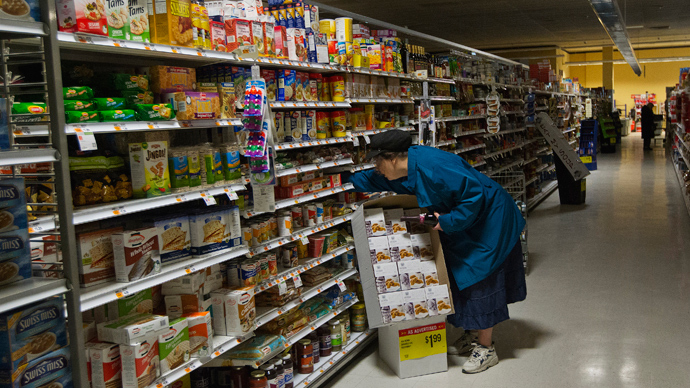 The government shutdown and a looming sunset on a temporary funding boost from the 2009 stimulus make November 1 an ominous date for Americans who rely on the federal food stamp program, some of whom would need to look elsewhere for help.
Food stamps are fully paid for through October, according to a shutdown plan released by the US Department of Agriculture (USDA) on October 1. The plan outlined what would happen to federal nutrition programs once the government closed absent a funding agreement from Congress.

A $2 billion contingency fund exists for states that need administrative assistance should the shutdown last beyond November 1.

The supplemental nutrition assistance program, known as SNAP, is available to low-income Americans who need help purchasing food. It is funded by the federal government though the USDA, although it is administered by individual states.

The federal government shutdown that began on October 1 has put a spotlight on the program and other federal nutrition initiatives that Americans increasingly rely on for support.

Recipients and providers are beginning to receive more direct notices of what awaits, should the shutdown not be resolved by next month.

In Utah, Fox News 13 in Salt Lake City reported that a local provider recently received a letter from the USDA sticking to the November 1 cut-off date.

"This is going to create a huge hardship for the people we serve here in our food pantry," Bill Tibbits, Associate Director at Crossroads Urban Center, told Fox News 13.

"What this means [is] if there's not a deal, if Congress doesn't reach a deal to get federal government back up and running, in Utah about 100,000 families won't get food stamp benefit," added Tibbits.

The USDA letter says in part, "in the interest of preserving maximum flexibility, we are directing states to hold their November issuance files and delay transmission to state electronic benefit transfer vendors until further notice."

Regardless of whether the shutdown is resolved by November, a temporary boost in SNAP funding associated with the 2009 federal stimulus program will sunset on October 31.

The stimulus, or American Recovery and Reinvestment Act of 2009, added $45.2 billion to the SNAP budget, increasing benefits from $588 a month to $668 for an average household of four.

Upon the sunset, a family of four will see a five percent cut to benefits, according to AP.

That cut comes out to average less than $1.40 per person per meal in fiscal year 2014, according to the Center on Budget and Policy Priorities.

One in seven - or 47 million - Americans receive SNAP benefits. Around half of those are children and teenagers. Mississippi is the state with the highest number of recipients - 22 percent of its population is enrolled in the program.

Census figures reported in September showed that in 2012, around 15 percent of Americans lived at or under the poverty level, which is $23,550 yearly income for a family of four.

The US House voted in September to cut SNAP funding by $39 billion over the next decade. The nonpartisan Congressional Budget Office estimated that such a level of cuts would cause up to 3.8 million people to lose food stamp benefits in 2014.

The Senate had previously voted to cut $4 billion to the program in that time period.

Another major federal nutrition program, WIC (Women, Infants and Children), is also set to shut down around November 1, based on USDA projections, and will not receive further funding. However, the USDA told Education Week that some states are capable of prolonging current funding.

"USDA is working with WIC state agencies to use all available funding resources to provide benefits to participants. [Food and Nutrition Service] will be allocating both contingency and carryover funds to state agencies for use in operating their FY 2014 WIC program, in addition to other available funds. Should a lapse extend through late October, federal WIC funding may not be sufficient to cover benefits," the USDA's Bruce Alexander said.

You can share this story on social media: