'You can't survive on that': Fast-food workers across US strike for better wages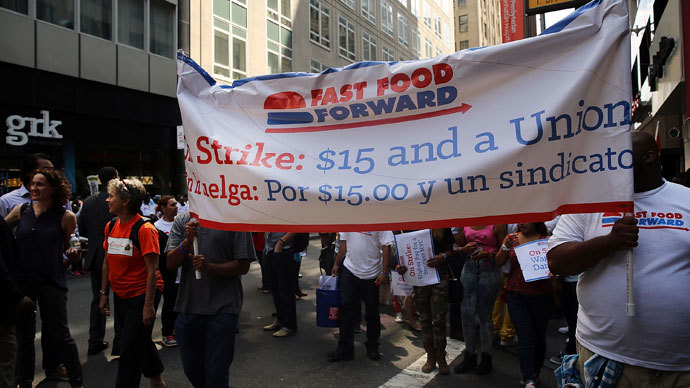 Fast-food industry workers across the United States staged a one-day nationwide strike demanding better wages and the right to form a union.
The Thursday event is so far the largest of its kind in a 10-month campaign that began in New York last November – starting with just 200 workers – and spread to other major cities by July 2013. The number of cities is now at 60, organizers say.

McDonald's, Wendy's, Taco Bell and Burger King all came under fire for holding their workers hostage to low wages. What the workers have in mind is a raise to $15 from the current minimum of $7.25, AP reports.

Even celebrities and politicians took part, with New York mayoral candidate Christine Quinn joining a march of several hundred workers who walked toward a McDonald's by the Empire State Building. Actor Stephen Baldwin was also spotted at an event in Seattle, Washington.

Martin Rafanan, a community organizer in St. Louis, Missouri, said that if the situation doesn't improve the corporations who employ low-paid workers will "pull all the blood, sweat, tears and money" out of local communities.

"If you're paying $7.25 an hour and employing someone for 20, 25 hours a week, which is the average here, they're bringing home about $10,000 a year. You can't survive on that," Reuters reported Rafanan as saying. 
Hundreds of fast-food industry workers across the U.S. join #strike demanding $15 an hour pay. pic.twitter.com/4FxK2ejMUo

— Arturo Lopez (@ArturoUnivision) August 29, 2013
However, the organization responsible for the American fast-food industry, the National Restaurant Association, said the problem was an exaggeration, with a spokesman of theirs telling Reuters that "only 5 percent of restaurant employees earn the minimum wage, and those that do are predominantly working part-time and half are teenagers."

The US labor secretary, Thomas Perez, agreed with the need to raise wages. He told the Associated Press that "the rungs on the ladder of opportunity are feeling further and further apart" for many people in the US.

An open letter to McDonald's and several other major names was sent by Fast Food Forward – a New York-based group, who pointed out the huge gap that exists between company profits and the wages they pay to their employees, calling the "poverty" wages "shameful and outrageous." 
Fast food employees protest outside of Burger King in SW #Houston@KPRCLocal2 Nationwide #FastFood#Strikepic.twitter.com/epGzfu6hjq

— Courtney Gilmore (@KPRCgilmore) August 30, 2013
The group also underlined the fact that workers to this day are targeted for organizing and protesting, with tactics by employers ranging from reducing working hours to firing workers.

Many workers in the crowds had to work two jobs just to make ends meet – often at competing fast-food chains. One such case, a father of three, Terrence Wise, 34, told The Guardian "we don't have a voice" and that the strike is as much a demand for "respect" as it is about better pay.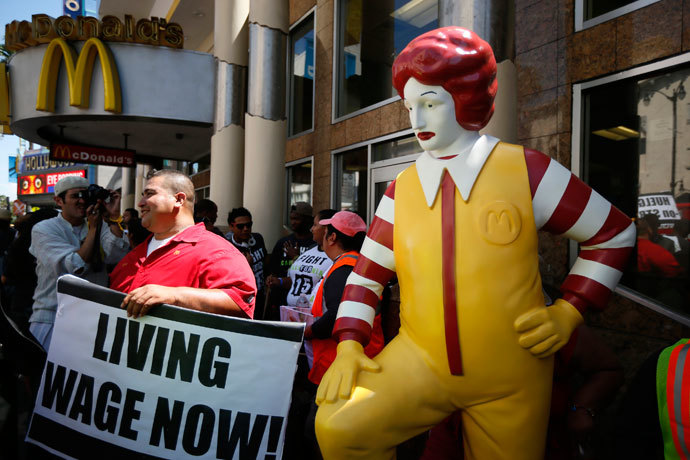 President of the Service Employees International Union Mary Kay Henry told The Guardian that "the fast-food workers are fighting for all of us. SEIU members, like all service-sector workers, are worse off when large fast-food and retail companies are able to hold down wages and push down benefit standards for working people."

There was no shortage of opponents to the strikes as well. The National Retail Federation (NRF) lashed out at the events calling them a "theater" performance staged by big labor and adding that retail and restaurant jobs are enjoyed by millions of Americans who are proud of what they do, and that the planned strike is a carefully planned action that was years in the making.

McDonald's shot back as well, saying that, firstly, the minimum wage rate does not stay at that level forever and that workers move up through the ranks and eventually receive higher pay. The company explained that if the wages were raised, it "would potentially have a negative impact on employment and business growth in our restaurants, as well as value for our customers."

Wendy's and Yum Brands, who own KFC, Pizza Hut and Taco Bell, could not be reached for comment by the AP.

The protests coincide with US President Barack Obama's plan to push the federal minimum wage up to $9 an hour, but that is still much less than the figure demanded by the workers.

You can share this story on social media: