McDonalds' sales fall for first time in nine years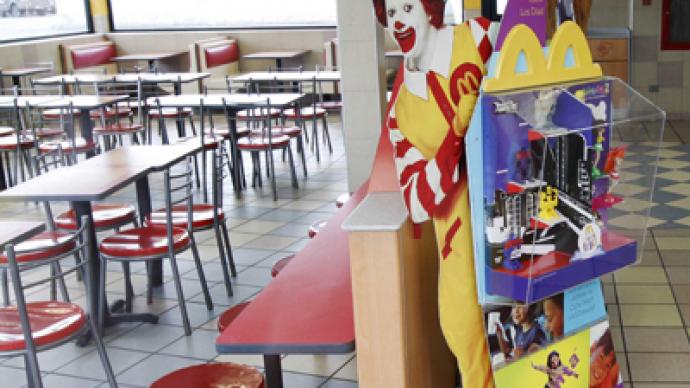 As the global economy continues to struggle, it seems that fast food icon McDonald's is seeing a slowdown in growth, as the corporation's key economic indicators dropped for the first time in almost a decade.
The world's biggest hamburger chain claimed their global sales fell in October by 1.8 per cent, at stores that have been open for a year or more. It came as a shock, as the last time the company experienced such low sales was in 2003.
McDonald's says its sales fell 2.2 per cent in both Europe and the US. In the Middle East Africa and Asia, they declined 2.4 per cent.
McDonald's CEO Don Thompson blamed the "pervasive challenges of today's global marketplace" for October's poor performance. The company also noted that results were hurt by a calendar shift, with this year's October having one less weekend, the busy time in sales.
After performing well for nearly a decade, the company is starting to be outmaneuvered my competitors such as Taco Bell, Burger King and Wendy's. The rivals showed a breakthrough in revitalizing their brands by focusing on new TV and ad campaigns, as well as updates to their menus.    
Other restaurant chains such as Chipotle, Panera Bread Co., and Fresh Choice are also luring customers away from fast food as they provide competitive prices, different quality food and atmosphere.  
In order to keep its market share, on Thursday McDonald's announced it would remain focused promoting its Value message.
The Extra Value Menu was designed to break free from the Dollar Menu and offer pricing flexibility, instead of being restricted by the one-dollar price tag. Offering an alternative to the Dollar Menu meant that the costs of ingredients has skyrocketed.  
Despite economic uncertainty in Europe, where 40 per cent of McDonald's revenue comes from, the company said it will offer new meal combinations at various price ranges and remodel its restaurants.  
In Asia, the company wants to localize the market by providing a menu tailored to local tastes.
At the announcement, McDonald's shares fell by 2 per cent, to $85.11 in afternoon trading.
You can share this story on social media: