Veterans Day: 40% of NYC veterans need food assistance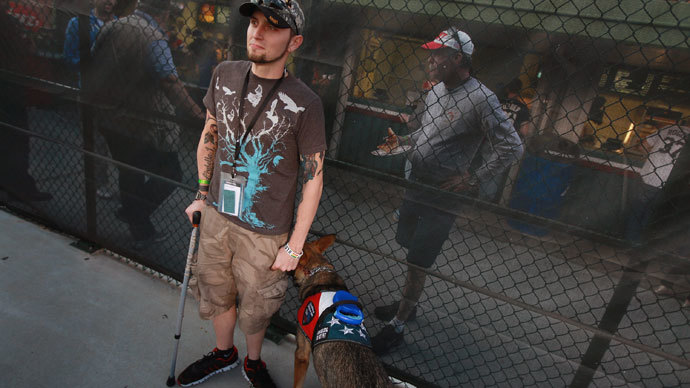 Roughly 40 percent of New York City's military veterans are finding themselves facing hunger with few options for help, and the problem may be get worse in the future.
According to Margarette Purvis, the president and CEO of the Food Bank for New York City, about 95,000 veterans need food aid such as those offered by soup kitchens and other hunger-relief organizations.
"On this Veterans Day, when we're waving our flags — I need every New Yorker to know — 40 percent of New York City veterans are relying on soup kitchens and pantries," Purvis said at an event in the Bronx on Saturday, according to CBS New York. "That is not a guesstimate; that is a fact."
Purvis also said that with looming cuts to the federal Supplemental Nutrition Assistance Program (SNAP), the problem is only going to worsen. These cuts will result in heavier reliance on food banks that may not have the capability to feed everyone in need.
Food banks tend to see the bulk of their donations during the holiday season, which should allow them to serve veterans and other people through the rest of the year. When the donations begin to dry up, however, many will be faced with the tough choice of either serving less food to individuals to ensure everyone receives something, or simply cutting off the line when food runs out.
A recent report by USA Today revealed that in 2010, food banks served about 37 million, a significant increase from 2006, when the number was 25 million. The cuts to SNAP, which began on November 1, could see the number go even higher.
"Our network is already overburdened with a tremendous increase in need," said Maura Dalya spokeswoman for the Feeding America, a nationwide network of more than 200 food banks.
As a part of 2009's Recovery Act stimulus program, SNAP benefits were temporarily expanded in an effort to help Americans hit by the recession and the tough job market. That expansion ended earlier this month, resulting in an average benefit decrease of five percent across the board. A typical family of four could see a drop of up to $36 a month in their benefits, and, depending on what action Congress takes, the program could be cut even more.
Earlier this year, the Senate passed a farm bill that, while making minimal changes to benefits, would cut $4.5 billion from the program over the next 10 years. House Republicans, meanwhile, passed a bill that cut SNAP by nearly $40 billion and would remove 3.8 million people from the program over the next year.
As the Senate and House negotiate over the bill, some reports are suggesting the two sides may settle on cutting $10 billion as a compromise.
"The cuts are going to make millions of people hungry," Jim Weill, president of the Food Research and Action Center, a non-profit firm targeting hunger in the U.S., said to CBS News. "It's going to send people into a charitable system that's already overwhelmed and screaming for help itself. And it will make life harder and worse for millions of children, seniors, veterans and people with disabilities."
You can share this story on social media: