​Food stamp usage has quadrupled among US service members since '06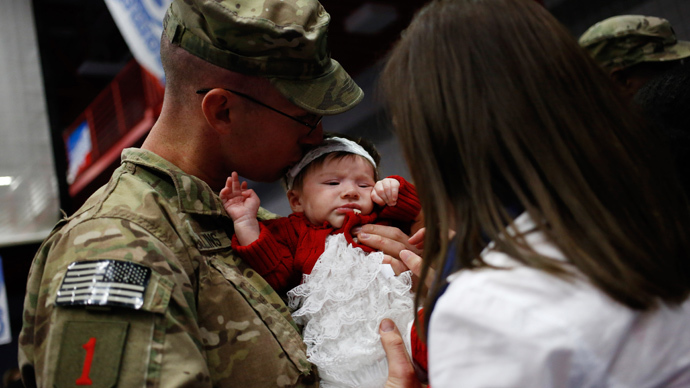 Food stamp usage among members of the US armed forces has quadrupled since 2006, as patrons of military commissaries used supplement to buy US$103.6 million of groceries in fiscal year 2013, according to the Defense Commissary Agency.
Participation in the Supplemental Nutrition Assistance Program (SNAP) has increased in recent years faster among members of the US military than the overall American population. Since 2009, members of the armed forces have doubled food stamp purchases; by comparison, overall spending on SNAP went up just 51 percent in that time, according to the US Department of Agriculture (USDA).
Around 5,000 active-duty military members used food stamps in 2011. That figure, which has not been updated since, made up less than 1 percent of the 44 million Americans on food stamps at the time, the USDA reported.
Weak economic recovery following the heights of the Great Recession is one culprit, as the unemployment rate among spouses aged 18 to 24 of active-duty military hit 30 percent in 2012, according to the Military Officers Association of America.
Base pay for a low-level soldier is around $20,000 – not including housing or food – which is just above the poverty line and, in at least a two-person household, would make the service member eligible for SNAP benefits, according to CBS News.
About 47 million American depend on food stamps, half of them being children. One-quarter are seniors. Participation during the recession reached 15 percent of the overall US population.
Yet Congress recently cut funding for SNAP benefits. The cut equals to about $11 less per month for the average enrolee. The average monthly benefit was $134 as of September 30, 2013, the end of the 2013 fiscal year.
You can share this story on social media: