Protesters ask federal court to lift injunction on Obama immigration action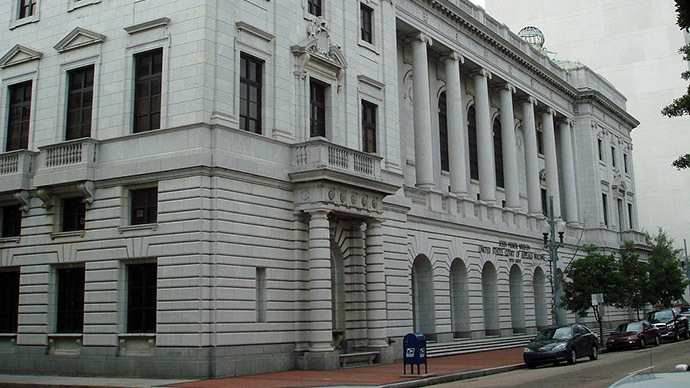 Protesters gathered outside a federal appellate court in New Orleans, Louisiana, calling on a three-judge panel to allow President Barack Obama's executive action on immigration to proceed, thus halting the deportation of millions of illegal immigrants.
Obama's executive action, signed in November, allows undocumented immigrants who have lived in the US for five years or more, and are parents of American citizens or lawful residents, to undergo criminal and national security background checks. Once these are completed, they are able to pay taxes and defer deportation for three years at a time. The action is expected to affect about five million illegal immigrants.
In December, Texas led a coalition of 17 states ‒ since joined by nine others ‒ insuing Obama, arguing the action violated constitutional limits on presidential powers and would force them to invest more in law enforcement, health care and education.
Immigration rights groups rallying at 5th Circuit appeals court in New Orleans. We could hear them in courtroom. pic.twitter.com/Ril0LKyeby

— David Nakamura (@DavidNakamura) April 17, 2015
The 5th Circuit Court of Appeals heard arguments at a special hearing Friday on whether to lift US District Judge Andrew Hanen's February decision to grant a preliminary injunction against the executive action at the request of the 26 states that oppose it. In March, Hanen, a judge in Texas, dismissed a request by the White House to stay his order while the situation unfolds in court.
During the hearing, each side was given just over an hour to argue their case. Lawyers from the Obama administration argued that Texas has no legal standing in the matter. Texas' solicitor general countered that granting legal status to immigrants will be costly for Texas, AP reported.
"The district court decision was wrong as a matter of law," Benjamin Mizer, the lead attorney for the Justice Department on the case, told the panel, according to the Washington Post.
Justice Department attorneys have argued previously that maintaining the temporary hold harms "the interests of the public and of third parties who will be deprived of significant law enforcement and humanitarian benefits of prompt implementation" of the president's immigration action.
Protesters say that the injunction against deportation risks tearing apart families.
New Orleans in national spotlight today regarding Obama immigration action. @BillCapo reports live, @WWLTV at 12. pic.twitter.com/kgdYq35gHC

— Lamar Bourgeois III (@lamarbourgeois) April 17, 2015
About 200 demonstrators stood outside the New Orleans courthouse, holding banners and waving at passing cars. One banner read "immigration reform" and another said "Deportation Destroys Families." They also shouted demands and could be heard inside the courtroom from the street, according to AP.
"It's important to remember this is not just about a lawsuit," Marielena Hincapié, the executive director of the National Immigration Law Center, who was among those in New Orleans, told the Washington Post. "It's about individual members of the community that have deep ties and their ability to achieve stability, dignity and respect. We want to lift up that human face and not let it get lost in the legal proceedings."
Victor Ibarra, a 43-year-old protester from Houston, was with a group of restaurant workers. He told AP it's time to change immigration policy.
"We are human. We want family to be together," he said. "We just want to be OK in this country, cause no trouble and have the opportunity to be in the US all our life."
Marching for relief in New Orleans #RestoreRelief#ImmigrationAction#Immigrationpic.twitter.com/2rHi8HRQve

— Fair Imm Ref4m Mvmnt (@Re4mImmigration) April 17, 2015
Getting the 5th Circuit panel to lift Hanen's injunction may be an uphill battle, as that Court of Appeals may be the country's most conservative appellate court, according to the Washington Post. The three-judge panel is comprised of two Republican appointees and one Democrat placed there by Obama.
Regardless of the 5th Circuit's decision, Hanen still has to issue a ruling over the constitutionality of the executive action itself. No matter what he ends up deciding, the case is expected to be appealed, likely all the way to the Supreme Court.
The first of Obama's orders ‒ to expand a program that protects young immigrants from deportation if they were brought to the US illegally as children ‒ had been set to take effect February 18.
The other major part would extend deportation protections to parents of US citizens and permanent residents who have been in the country for several years. That provision was originally slated to begin on May 19.