​Texas judge delays Obama admin request to unblock immigration orders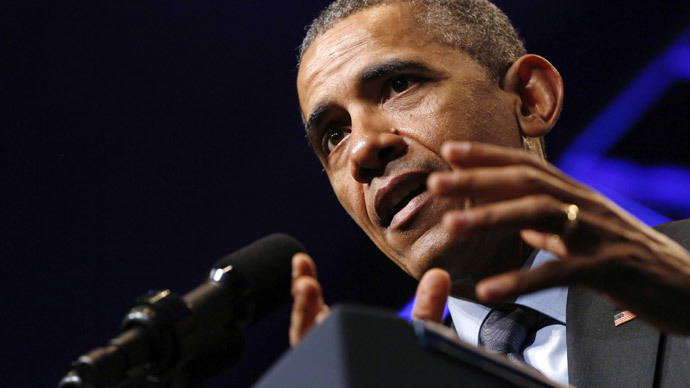 The Texas judge who placed an injunction against President Barack Obama's controversial executive orders on immigration dismissed a request by the White House to stay his order while the situation unfolds in court.
US District Court Judge Andrew Hanen said he would not rule just yet on a request to unblock his order against President Obama's immigration plan. As justification, he referredto allegations that the White House misled Texas and 25 other states that filed a lawsuit against the executive orders.
Last week, the Justice Department told the judge that it had granted approximately 100,000 undocumented immigrants three-year work permits between November 24 and February 16, when the executive orders were blocked by Hanen. According to the states, however, the federal government said it was not going to start acting on Obama's orders until February 2015.
READ MORE:White House will seek emergency order to stay Texas immigration ruling
For its part, the government stated that the immigrants in question did qualify for the 2012 Deferred Action for Childhood Arrivals program (DACA), which was not stopped by Hanen's order. Under the 2012 plan, though, those who qualified would be granted two-year permits, not three.
On Monday, Hanen did not reject the Obama administration's request outright, but stated that he will make no further ruling on the case until after a hearing scheduled for March 19.
"Due to the seriousness of the matters discussed therein, the Court will not rule on any other pending motions until it is clear that these matters, if true, do not impact the pending matters or any rulings previously made by this Court," he wrote in his order.
READ MORE: Obama's immigration plans derailed by Texas-led coalition
Hanen also called on the government to be "prepared to fully explain to this Court all of the matters addressed in and circumstances surrounding" the issue.
Back in February, Hanen ruled that President Obama went beyond his authority in allowing some four million immigrants the ability to avoid deportation.
"The [Department of Homeland Security] was not given any 'discretion by law' to give 4.3 million removable aliens what the DHS itself labels as 'legal presence,'" he wrote. "In fact, the law mandates that these illegally-present individuals be removed. The DHS has adopted a new rule that substantially changes both the status and employability of millions. These changes go beyond mere enforcement or even non-enforcement of this nation's immigration scheme."
As the courtroom battle drags on, 12 states and the District of Columbia are filing requests in support of the administration's action. The White House has said it believes the courts will eventually rule in its favor, and stated the president acted within his authority.
You can share this story on social media: