Antibiotic-resistant superbug has spread to majority of US states – CDC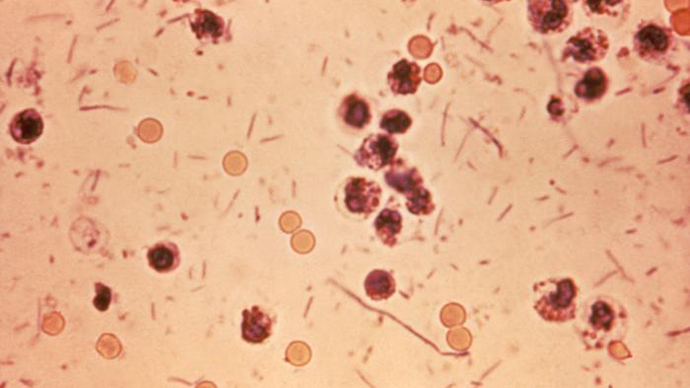 The intestinal bug shigella sonnei has spread via international travelers to 32 states and Puerto Rico, US health officials say. The bacteria has largely resisted the main drugs used to combat it.
Between May 2014 and February 2015, a drug-resistant strain of shigella has infected 243 people across the US, according to the US Centers for Disease Control and Prevention (CDC). The CDC's findings were first published in the agency's Morbidity and Mortality Weekly Report.
The CDC found that 90 percent of cases of the shigellosis infection analyzed in Massachusetts, California, and Pennsylvania were resistant to ciprofloxacin (Cipro), the top shigellosis antibiotic in the US.
The agency found that the potent, Cipro-resistant strain was "repeatedly introduced as ill travelers returned and was then infecting other people in a series of outbreaks around the country." Many shigella strains in the US were already considered too advanced for other drugs, including ampicillin and trimethoprim/sulfamethoxazole.
The CDC added that shigellosis spreads quickly among nursing homes, "childcare facilities, homeless people and gay and bisexual men, as occurred in these outbreaks."
READ MORE: Superbug time bomb: FDA vets only 10% of antibiotics that farm animals share with humans
"These outbreaks show a troubling trend in Shigella infections in the United States," said CDC Director Tom Frieden in a public statement.
"Drug-resistant infections are harder to treat and because Shigella spreads so easily between people, the potential for more – and larger – outbreaks is a real concern. We're moving quickly to implement a national strategy to curb antibiotic resistance because we can't take for granted that we'll always have the drugs we need to fight common infections."
The CDC was first alerted to the new breed of shigella – which causes diarrhea in those infected – in December. Further investigation found that the strain was resistant to Cipro. The agency found that international travelers were largely responsible for the strain's introduction, while other cases, including around 100 infections among the homeless population in San Francisco, were contracted by other means.
Cipro-resistant Shigella in US; doctors should use lab tests to determine which antibiotics will work. http://t.co/r7xiRGFpWl@CDCMMWR

— Dr. Tom Frieden (@DrFriedenCDC) April 2, 2015
"The increase in drug-resistant Shigella makes it even more critical to prevent shigellosis from spreading," said Anna Bowen, a medical officer in CDC's Waterborne Diseases Prevention Branch and lead author of the shigella study.
"Washing your hands with soap and water is important for everyone. Also, international travelers can protect themselves by choosing hot foods and drinking only from sealed containers."
READ MORE: White House declares war on 'superbugs'
Last September, President Barack Obama signed an executive order to beef up efforts against antibiotic-resistant bacteria.
Then in January, Obama called on Congress to raise funding for such efforts to $1.2 billion, indicating that the matter was "one of the most pressing public health issues facing the world today."
The proposal asked for funding research into new antibiotics, increased monitoring of infection outbreaks, new resistance efforts at veterans' and military hospitals, and efforts to curb antibiotic overprescription.
Countering antibiotic resistance currently costs the American healthcare system between $21 billion and $34 billion each year, according to the Infectious Diseases Society of America.
"Antibiotic resistance limits our ability to perform a range of modern medical procedures from joint replacements to organ transplants, the safety of which depends on our ability to treat bacterial infections that can arise as post-surgical complications," a White House statement said.
READ MORE: Use of antibiotics in cattle feed leads to airborne antibiotic-resistant bacteria – study
In December, a study known as the Review into Antimicrobial Resistance, warned that superbugs with a high resistance to antibiotics could kill 10 million people worldwide each year by 2050 unless more action is taken. The figure is higher than the global impact of cancer, which currently kills 8.2 million. Microbial resistance will impact poorer nations the most, the study reaffirmed.
In 2011, the US Food and Drug Administration confirmed that 80 percent of all antibiotics used in the United States are dedicated to animal agriculture.
With livestock consuming the vast majority of antibiotics, the bacteria found inside the animals gradually develop resistance against the drugs when they are not administered in strong enough doses – meaning they also become much harder to treat in humans, if and when the bacteria are transferred.
You can share this story on social media: