Crying fowl: McDonald's ditching antibiotic-stuffed chicken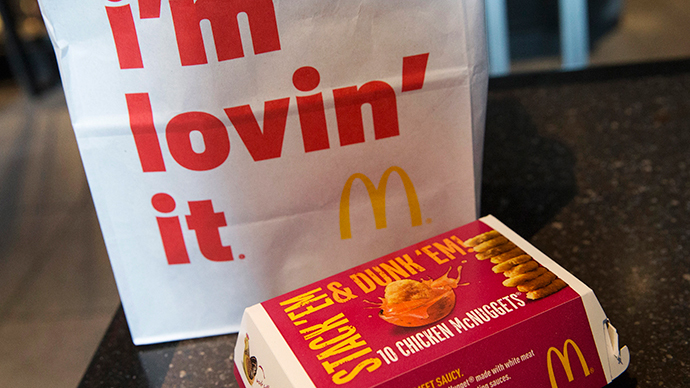 McDonald's has announced it will stop buying chickens raised on human antibiotics within the next two years. The company will also start offering hormone-free milk and cheese. Nothing has yet been mentioned about beef products.
Battling declining sales and image problems, the changes were announced Tuesday night at the "Turnaround Summit" with franchise owners in Las Vegas, and represent the first major reform by the new president and CEO Steve Easterbrook, previously in charge of McDonalds' operations in the UK and Europe.
Several major US restaurant franchises have already abandoned antibiotic-treated meat.
Pretty big news out of @McDonalds. Chain to start buying antibiotic-free chicken for all 14,300 U.S. stores: http://t.co/TBZfMWbBC0

— Peter Frost (@peterfrost) March 4, 2015
Chick-fil-A, the largest restaurant seller of chicken in the US, announced in February 2014 it would phase out antibiotic-raised chicken over a period of five years. Chipotle and Panera already serve antibiotic-free chicken. With over 14,000 restaurants across the US, McDonald's may turn the tide in the move away from antibiotic-treated livestock.
In 2013, the Food and Drug Administration urged a change in the practice, alarmed by the rise of antibiotic-resistant bacterial strains. According to a CDC report from 2013, at least 23,000 Americans annually die from bacterial infections resistant to antibiotics.
READ MORE: Superbug time bomb: FDA vets only 10% of antibiotics that farm animals share with humans
"It really is welcome news for public health," Gail Hansen from the antibiotic resistance project with The Pew Charitable Trusts, told the Wall Street Journal. "It will have a ripple effect probably throughout the entire food industry."
While discontinuing the drugs used to treat humans, McDonald's said it would allow the use of ionophores, antibiotics routinely used by industrial farmers to increase feed efficiency. According to Hansen, ionophores are not used in human medicine and not even considered antibiotics in Europe.
Good news: McDonald's will stop using chicken and milk treated with human antibiotics http://t.co/WG7xkFU9Olpic.twitter.com/Q5wPYwjCx5

— Eater (@Eater) March 4, 2015
Tyson Inc, the largest US meatpacker, welcomed the announcement on Wednesday. Their spokesman said the company had reduced the use of human antibiotics in chicken by 84 percent since 2011.
On Wednesday, McDonald's also announced it would begin offering milk products from cows that have not been treated with the artificial growth hormone rBST. Though widely used in the US, the hormone has been banned in Argentina, Australia, Canada, the European Union, Israel, Japan and New Zealand.
With approximately 32,000 restaurants, McDonald's is the world's second-largest fast-food chain, right after Subway.
You can share this story on social media: