White House wants $1.2bn to fight antibiotic-resistant bacteria, looming superbug epidemic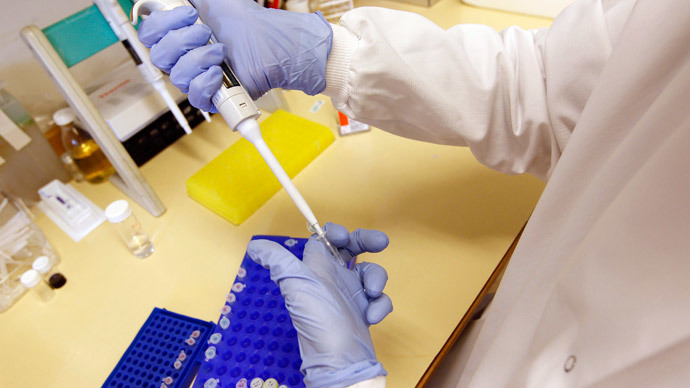 The White House has called for increased investment to fight antibiotic-resistant bacteria to prevent resurgent diseases once thought eradicated and new superbugs that similarly gain strength thanks to the modern penchant for profligate antibiotic use.
President Obama will ask the US Congress to nearly double funding that combats antibiotic resistance to $1.2 billion, the White House announced Tuesday, calling the matter "one of the most pressing public health issues facing the world today." The announcement was a follow-up to an executive order the president signed in September that launched efforts against antibiotic-resistant bacteria.
The proposal called for funding research into new antibiotics, increased monitoring of infection outbreaks, new resistance efforts at veterans' and military hospitals, and efforts to curb antibiotic overprescription.
READ MORE: New antibiotic found in 'grassy field' proves effective against drug-resistant bacteria
Countering antibiotic resistance currently costs the American healthcare system between $21 billion and $34 billion each year, according to the Infectious Diseases Society of America.
"Antibiotic resistance limits our ability to perform a range of modern medical procedures from joint replacements to organ transplants, the safety of which depends on our ability to treat bacterial infections that can arise as post-surgical complications," a White House statement said.
According to the US Centers for Disease Control and Prevention, more than 23,000 American die every year from infections that can overpower top-shelf antibiotics. The situation portends a dark future if antibiotics cannot keep pace -- or the overuse of current antibodies is not addressed -- with the global spread of germs resistant to antibiotics.
Dozens of patients at a Seattle hospital contracted a superbug infection from contaminated endoscopes. http://t.co/Dros6pfkho

— CBS News Health (@CBSHealth) January 22, 2015
"Judicious use of antibiotics is essential to slow the emergence of antibiotic resistance in bacteria and extend the useful lifetime of effective antibiotics," the White House acknowledged. "Preserving the usefulness of antibiotic resources without compromising human or animal health requires coordination, cooperation, and engagement of healthcare providers, healthcare leaders, pharmaceutical companies, veterinarians, the agricultural and pet industries, and patients."
READ MORE: Drug-resistant 'superbug' found in Rio de Janeiro Olympic waters
The increased spending would go to the National Institutes of Health and the Biomedical Advanced Research and Development Authority.
"If we continue along the line of more and more microbes becoming antibiotic resistant, we could be faced with a situation where we have untreatable infections," said Anthony Fauci, director of the National Institute of Allergy and Infectious Diseases. "Talk about setting back the clock. That's bad news."
In December, a study known as the Review into Antimicrobial Resistance, warned that superbugs with a high resistance to antibiotics could kill 10 million people worldwide each year by 2050 unless more action is taken. The figure is higher than the global impact of cancer, which currently kills 8.2 million. Microbial resistance will impact poorer nations the most, the study reaffirmed.
READ MORE: Superbug time bomb: FDA vets only 10% of antibiotics that farm animals share with humans
Last fall, Obama's executive order established steps the US would take to combat antibiotic resistance. The order set aside $800 million in extra funding for companies to develop new drugs, as well as $900 million for further research. The plan also prohibits farmers from employing antibiotics on livestock for growth purposes, but critics say it does not go nearly as far as it needs to.
In 2011, the US Food and Drug Administration confirmed that 80 percent of all antibiotics used in the United States are dedicated to animal agriculture.
With livestock consuming the vast majority of antibiotics, the bacteria found inside the animals gradually develop resistance against the drugs when they are not administered in strong enough doses – meaning they also become much harder to treat in humans, if and when the bacteria are transferred.
You can share this story on social media: