Top international banks face US probe for alleged precious metals market fix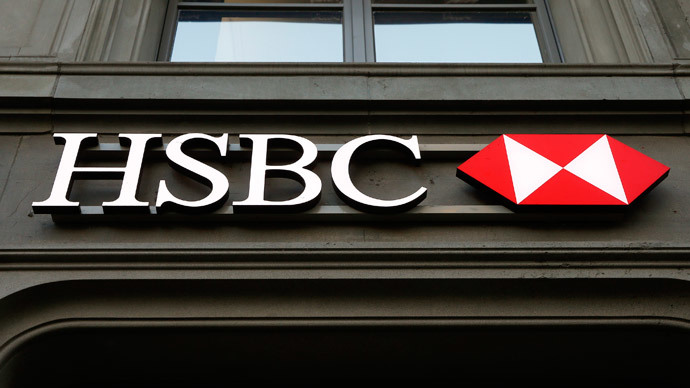 The US Department of Justice is in the early stages of an investigation into at least 10 international banks—including JPMorgan Chase, Goldman Sachs and Barclays—over alleged manipulation of the precious metals market.
HSBC included in its annual report, published Monday, that the antitrust division of the Justice Department asked the bank to submit documents related to an investigation into the price setting of gold, silver, platinum and palladium.
The report added that the US Commodity Futures Trading Commission (CFTC) subpoenaed HSBC Bank USA for information on its precious metals trading. The bank said it was cooperating with American officials.
According to reports, the other banks involved in the investigation include Bank of Nova Scotia, Credit Suisse, Goldman Sachs, JPMorgan Chase, Societe Generale, Standard Bank and UBS.
The banks have yet to comment, although HSBC confirmed the investigation was "at an early stage." Barclays will have to reveal if they are involved when it releases its annual report next week, according to The Independent newspaper.
READ MORE:Goldman Sachs, HSBC, BASF sued in first US metals price manipulation case
Investors and jewelers in the US have already sued a handful of top financial firms for an alleged eight-year manipulation of platinum and palladium prices. Those accused include units of Goldman Sachs Group (the world's biggest global investment bank), HSBC Holdings (Europe's largest bank by market value), the metals unit of the world's largest chemical company, BASF and Standard Bank Group from South Africa — the world's largest producer of platinum and second largest producer of palladium after Russia.
Until recently, gold, silver, platinum and palladium prices were set by a century-old process where a small number of banks would meet for daily or twice-daily conferences. That process was overhauled last year with the help of the London Bullion Market Association. Now, an electronic, auction-based system serves as a regulatory structure for market prices.
READ MORE:Banking breeds cheating for financial gain - Swiss researchers
The DOJ's precious metals probe has surfaced in the midst of other global banking investigations into the rigging of other financial benchmarks.
The Swiss regulator FINMA included its metals-rigging investigation into a November settlement with UBS Group over currency-rate manipulation, saying there was a "clear attempt to manipulate fixes in the precious metal market" by UBS.
READ MORE: Banks fined record $4.3bn for corrupting integrity of currency trading
The UK Financial Conduct Authority (FCA) is also looking into banks' possible fixing of precious metal prices as it works through its foreign exchange manipulation probe, though wider probes by FINMA, FCA and Germany's BaFin have stalled, according to The Independent. The latter two each have already said that there was no rigging of gold price-setting, according to Bloomberg.
Top banks — including JP Morgan, UBS, Citigroup, Royal Bank of Scotland, HSBC and Bank of America — were accused last year of tampering with currency interbank rates on the largely unregulated $5.3 trillion-a-day foreign exchange market. Bankers allegedly worked together and sent secret signals to manipulate the important currency benchmarks to boost bank profits. The banks settled with the CFTC in November for more than $4 billion.
In addition, many of the same mega-banks — including JPMorgan Chase, Barclays, Credit Suisse and at least 10 other of world's biggest international lenders — were sued in 2013 by US regulator FDIC for causing millions of dollars in losses at credit unions by allegedly rigging the Libor benchmark rate.
You can share this story on social media: