Goldman Sachs, HSBC, BASF sued in first US metals price manipulation case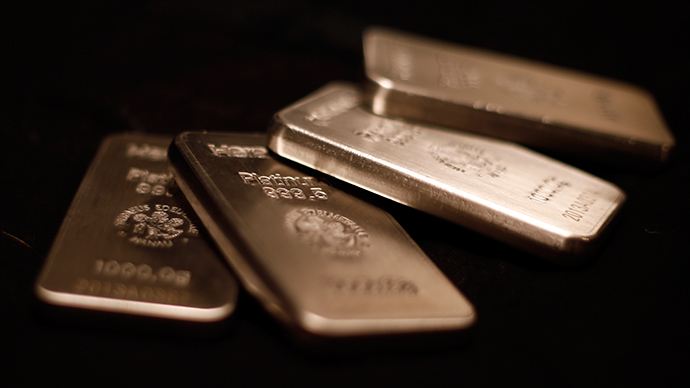 Four major global firms are to appear in a New York court accused of manipulating platinum and palladium prices for eight years. The law suit is the first of its kind in US history.
Those accused include units of Goldman Sachs Group, the world's biggest global investment bank, HSBC Holdings, Europe's largest bank by market value, the metals unit of BASF SE (BAS) ), the world's largest chemical company, and Standard Bank Group from South Africa, the world's largest producer of platinum and second largest producer of palladium after Russia.
The plaintiffs claim the manipulations of precious metals prices, which is believed to have started in 2007, have cost purchasers millions of dollars, Reuters reports.
The companies have been sued for using insider information about client purchases and sale orders to profit from slight movements in the price of platinum group metals, be they used for jewelry or for industrial use, such as the production of automotive catalytic converters, fuel cells, etc.
The illegal sharing of customers' data enabled the banks to undertake a "front-running" price manipulation, with the help of fabricating "spoof" orders, which is claimed violates US antitrust and commodities laws.
The suit was filed in the Manhattan Federal Court on Tuesday by Modern Settings LLC, a Florida-based maker of jewelry and police badges. All four defendant companies refused to comment on the issue.
Last year BASF's metal unit generated €2.36 billion ($2.95 billion) revenue in precious metals trading, according to Reuters.
READ MORE: Banking breeds cheating for financial gain - Swiss researchers
Regulators around the world have been tightening the screws on the global banks over the manipulation with some of benchmark rates, such as rates on the foreign exchange markets and the inter-bank London Interbank Offered Rate (LIBOR).
In spring 2014 the Swiss regulator became the first to confirm it had uncovered illegal currency rate rigging by world's leading financial organizations, Goldman Sachs, and HSBC included.
By November the world's biggest banks had agreed to pay out $4.3 billion to settle an investigation into their alleged rigging of foreign exchange rates.
READ MORE: Banks fined record $4.3 bn for corrupting integrity of currency trading
You can share this story on social media: