Banks fined record $4.3bn for corrupting integrity of currency trading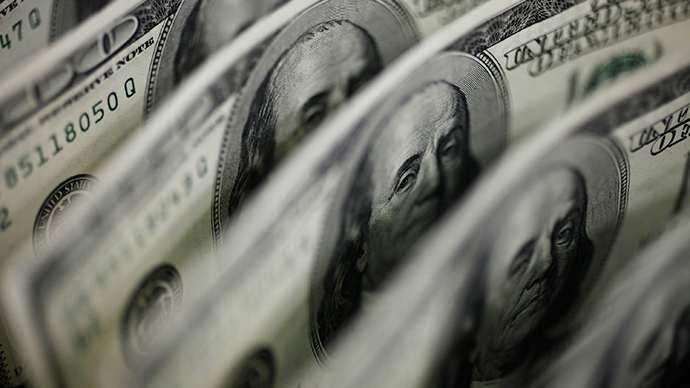 Some of the world's biggest banks have agreed to pay out $4.3 billion to settle an investigation into their alleged rigging of foreign exchange rates. Barclays, the first to settle in the Libor case, is still hoping to strike a deal.
The banks are accused of tampering with currency interbank rates on the largely unregulated $5.3 trillion-a-day foreign exchange market. Bankers worked together and sent secret signals to manipulate the important currency benchmarks to boost bank profits.
READ MORE: Swiss watchdog probes 8 banks over currency rate manipulations
"The setting of a benchmark rate is not simply another opportunity for banks to earn a profit. Countless individuals and companies around the world rely on these rates to settle financial contracts, and this reliance is premised on faith in the fundamental integrity of these benchmarks," Aitan Goelman, Director of Enforcement at CFTC, said in a press release on
UBS, Citigroup, JPMorgan Chase, Royal Bank of Scotland, HSBC, and Bank of America all reached settlements, but Barclays, the UK's biggest bank, is reportedly in talks with individual regulators.
Citigroup agreed to pay $1.02 billion to three regulators in the US and UK, and JPMorgan will pay out nearly $1 billion to settle the matter.
Switzerland's UBS was given a fine of $800 million, Royal Bank of Scotland was fined $634 million, and HBSC $618 million. Bank of America will have to pay $250 million.
"The market only works if people have confidence that the process of setting these benchmarks is fair, not corrupted by manipulation by some of the biggest banks in the world," Goelman added.
US, UK, and Swiss regulators ordered the fines in tandem. The UK's Financial Conduct Authority (FCA), the US Commodity Futures Trading Commission (CFTC), and the US Comptroller of the Currency (OCC) imposed the bulk of the fines.
The Swiss regulator, FINMA imposed a $139 million (134 billion franc) fine on the country's biggest bank, UBS.
Charges against individuals are expected.
The investigation started eighteen months ago and is continuing. Evidence shows collusion between traders began in 2009.
Germany's biggest bank, Deutsche Bank, is still under investigation. Deutsche Bank is one of the few banks to have already dismissed currency traders over probes involving alleged Forex manipulation.
The Swiss Financial Market Supervisory Authority, FINMA, was the first to confirm it had uncovered illegal currency rate rigging in April. That was followed by the US, UK, Germany and a dozen other regulators across four continents who are examining the manipulation of currency at major banks in the largely unregulated foreign exchange market.
Many regulators worry currency rigging is the next Libor scandal when banks manipulated the Libor interbank lending rate by setting it low against the dollar in order to mask their financial problems. In that case over $6 billion in fines have been doled out to dozens of banks.
READ MORE: London banker pleads guilty to fixing Libor, faces up to 10 yrs in jail
You can share this story on social media: