Silk Road creator admits building website, denies growing it into illegal market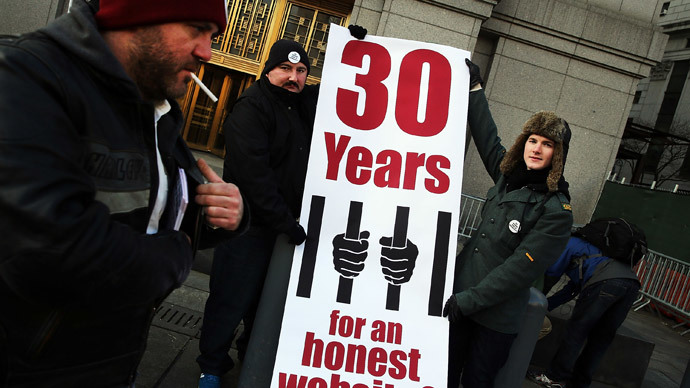 The man accused of creating the black market website Silk Road admitted in court that he did invent the website, but added that he is not the one responsible for turning it into an enormous online drug empire.
During the first day of Ross Ulbricht's trial on Monday, the 30-year-old's defense attorney Joshua Dratel said that Ulbricht "did invent Silk Road," marking the first time that he has conceded this point. According to the Daily Dot, Dratel added that Ulbricht first thought up the idea back in 2009 and officially launched the website in 2011.
However, Dratel added that although Ulbricht invented the site, he never called himself 'Dread Pirate Roberts' online – the name used by the Silk Road's administrator during the timeframe that the government claims Ulbricht aided in the trafficking of illegal drugs.
Dratel instead said that Ulbricht only ran Silk Road for "a few months" after he created it. Finding it "too stressful," Ulbricht reportedly handed the website's reins over to others. As a result, the defense argues that the government is prosecuting the wrong individual for building up a $1.2 billion black market, since Ulbricht is not Dread Pirate Roberts.
Back in 2013, a separate individual claiming to be Dread Pirate Roberts stated that he/she "didn't start the Silk Road, my predecessor did."
Additionally, Dratel said that for someone the government claims made millions of dollars, Ulbricht's lifestyle was too modest to fit the bill.
"Ross Ulbricht and Dread Pirate Roberts were a contradiction so dramatic that it will run against all common sense," Dratel told the court, as quoted by the Daily Dot.
Breaking: In court, Ross Ulbricht admits he created #SilkRoad, but says he's not Dread Pirate Roberts http://t.co/kIseWpT3rB v @HowellONeill

— Dell Cameron (@dellcam) January 13, 2015
The prosecution argued that Ulbricht made some $18 million from more than 1 million drug deals, the Dot reported.
Ulbricht was arrested by the FBI in October 2013 for his alleged involvement in Silk Road, which operated from at least January 2011 to the time of his arrest.
According to prosecutors, Ulbricht aided in the trafficking of controlled substances from January 2011 up until his arrest. Through a government investigation, authorities determined that several thousand drug dealers used Silk Road to distribute hundreds of kilograms of illegal drugs to over 100,000 buyers, laundering hundreds of millions of dollars in the process.
Ulbricht, accused of going by the name 'Dread Pirate Roberts' on the website, faces up to life in prison. He has pleaded not guilty to the charges and has avoided taking responsibility for the site.
His supporters have hailed the case as an attack on internet freedom. According to Reuters, a group of protesters turned up outside a Manhattan federal court on Tuesday in support of the accused, holding signs that read: "30 years to life for an honest website?" and "Web hosting is not a crime!"
US authorities say Silk Road had made $1.2 billion in sales and $80 million in commissions by October 2013.
Prosecutors allege that Silk Road used a special Tor network of computers, which are designed to conceal their IP addresses and the identities of their users. Capturing Ulbricht with his computer open was a main objective when the FBI apprehended him.
"Mr. Ulbricht was administering Silk Road when he was grabbed, the bureau said in a criminal complaint," The New York Times wrote a year ago.
"The government later released screen photographs showing that Mr. Ulbricht was logged into a page titled 'mastermind.' According to the government, operational files were found, including ledgers that tallied personal revenue of 600,000 Bitcoins, the crypto-currency used for every Silk Road transaction, a stash that, at the time, was worth $80 million."
READ MORE: Bitcoin pioneer jailed for 2 yrs over Silk Road ties
Authorities also indicated that through their surveillance of Ulbricht they believed he asked a Silk Road user to execute another customer for a fee of $300,000. The would-be victim, a Silk Road vendor operating under the name 'FriendlyChemist' according to the complaint, threatened to release the identities of otherwise anonymous Silk Road clients if Ulbricht didn't pay him to keep quiet.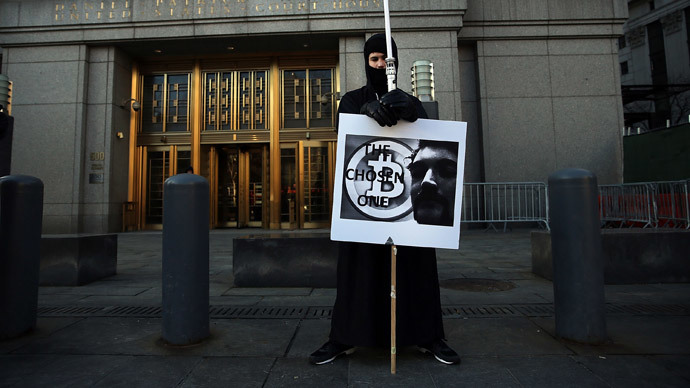 "In my eyes, FriendlyChemist is a liability and I wouldn't mind if he was executed," Ulbricht allegedly told Silk Road user 'redandwhite.'
Prosecutor Serrin Turner said in court that government investigators, after spending weeks pouring over Ulbricht's computer, discovered a diary the defendant kept which details the rise of Silk Road. The site was originally to be called "Underground Brokers," according to Turner, and a letter to the court included the following passage:
"I began working on a project that has been in my mind for over a year," Ulbricht allegedly wrote. "I was calling it Underground Brokers, but eventually settled on Silk Road. The idea was to create a website where people could buy anything anonymously, with no trail whatsoever that could lead back to them."
Ulbricht's defense will rely on whether the government can even prove he is 'Dread Pirate Roberts,' and just how law enforcement were able to attack Tor's identity-cloaking capabilities.
"When you move into deliberately anonymous identities, like bitcoin wallets or Tor addresses, the problem becomes even harder,"wrote Verge. "Prosecutors have been able to gloss over difficulties like this in the past, but with Ulbricht's well-funded defense, it makes it likely they'll be called out on any technical inconsistencies in the case. And if Bitcoin's anonymity measures ultimately keep Ulbricht out of jail, it would have massive implications for both law enforcement efforts and the currency itself."
In a November 2013 court filing in response to a bail request from the alleged Silk Road owner, prosecutors accused Ulbricht of negotiating a total of six murders-for-hire plots. The filing included four previously unknown plots. None of the murders were carried out.
Ulbricht's lawyer, Joshua Dratel, filed a motion to dismiss the charges in April 2014, arguing that the black market website operated in bitcoin – which was ruled a 'non-currency' in a decision made earlier that month by the Internal Revenue Service. In its decision, the government agency explained that virtual money "is treated as property" and "is not treated as currency."
The money-laundering indictment requires a "financial transaction" to be carried out with the involvement of either "funds" or "monetary instruments," Dratel argued, adding that bitcoin appears to be neither.
"Thus, an essential element of §1956 – a 'financial transaction' – is absent because a necessary component thereof – either 'funds' or 'monetary instruments' – is lacking. Consequently, it is respectfully submitted that Count Four must be dismissed," Dratel said in his motion.
READ MORE: US to auction off bitcoins worth $18.5mn seized from Silk Road
Ulbricht's dismissal bid was rejected by a federal judge in July 2014.
"Silk Road was specifically and intentionally designed for the purpose of facilitating unlawful transactions," wrote Judge Forrester. "Ulbricht is alleged to have knowingly and intentionally constructed and operated an expansive black market for selling and purchasing narcotics and malicious software and for laundering money. This separates Ulbricht's alleged conduct from the mass of others whose websites may—without their planning or expectation—be used for unlawful purposes."
"The allegations amount to Ulbricht acting as a sort of 'godfather' - determining the territory, the actions which may be undertaken, and the commissions he will retain; disciplining others to stay in line, and generally casting himself as a leader," she continued. "Whether the government can prove the facts alleged is not a question at this stage."
You can share this story on social media: