Ambush prompts all-night LAPD manhunt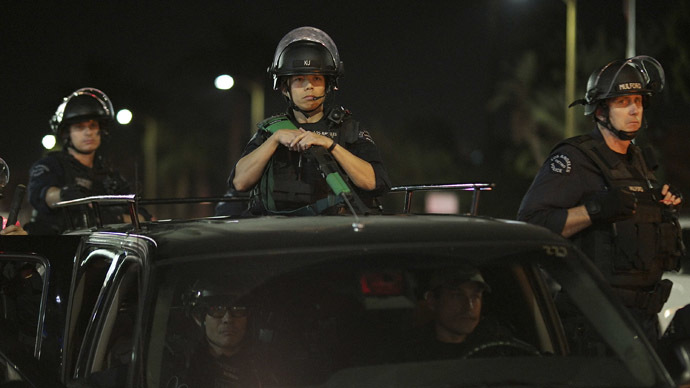 The Los Angeles Police Department has called off a search for a suspect still at large, who was allegedly involved late on Sunday in a shooting ambush on a police patrol car. Another person was arrested shortly after the shooting.
The shooting, which didn't result in injury, occurred as an LAPD squad car, responding to an unrelated incident, was driving south on Hoover Street near 62nd Street in the Vermont-Slauson neighborhood of South Los Angeles, according to the Los Angeles Times.
Police said officers fired back during the incident, which occurred at about 9:30 pm local time, but it's not clear if any of the shots hit anyone.
The ensuing manhunt triggered a citywide tactical alert, as the area near the shooting was blocked off from traffic. Though the search was called off just before 6 am on Monday, the area will stayed cordoned off until later on Monday, according to police.
One man was detained as a "person of interest" in the shooting, said Detective Meghan Aguilar, specifying to KTLA that the suspect hadn't been arrested. She said the second alleged gunman remains on the loose.
"We do not have a face or a name, there are leads that investigators are following up on," Aguilar said. "This is obviously a dangerous individual who doesn't belong on the streets of Los Angeles."
The shooting was "a completely unprovoked attack," Captain Lillian Carranza told KTLA, adding that several rounds were fired at the officers of the city's 77th Division. A rifle was recovered at the scene, the Times reported.
A three-block area around the shooting was immediately closed off as police combed a six-block section of the neighborhood with search dogs, the Times reported. SWAT officers and aerial search methods were also employed.
"Our teams…did a very thorough and meticulous search and they were unable to locate that suspect," Aguilar said, according to KTLA.
Around 11 pm, police asked nearby residents to stay indoors.
"Please stay indoors in the area of 52nd Street and Hoover Avenue, armed Suspect in the area," the LAPD's 77th Division said on Facebook. "Please keep our officers in your thoughts and prayers!"
The shooting comes more than a week after two New York City police officers were ambushed and fatally shot in Brooklyn, heightening tensions in the city amid a volatile climate nationwide regarding police-community relations.
Demonstrations and civil unrest have occurred from coast to coast, particularly in Missouri and New York after grand juries in those states decided not to indict officers Darren Wilson and Daniel Pantaleo for the killing of unarmed black men, Michael Brown and Eric Garner, respectively.
The ongoing protests aim to highlight racial profiling, police brutality and overall anger with the police-court-prison troika in America.
Police, especially in New York City, and their supporters have painted the protests - and even lukewarm supporters of police reform, such as New York Mayor Bill de Blasio - as at least partly responsible for the shooting deaths of NYPD officers Rafael Ramos and Wenjian Lin by gunman Ismaaiyl Brinsley, who had shot a female acquaintance in Maryland before traveling to Brooklyn on December 20.
Police nationwide continue to use citizen anger at the Brown and Garner grand jury decisions, as well as other instances of suspicious police killings, as reason to stay on high alert.
Carranza told KTLA that LAPD officers were in "heightened awareness mode."
"The officers know to be aware of the environment and what is taking place nationwide," she said, adding, "You will not see a Los Angeles police officer working alone."