7 arrested for threatening to kill police – NYPD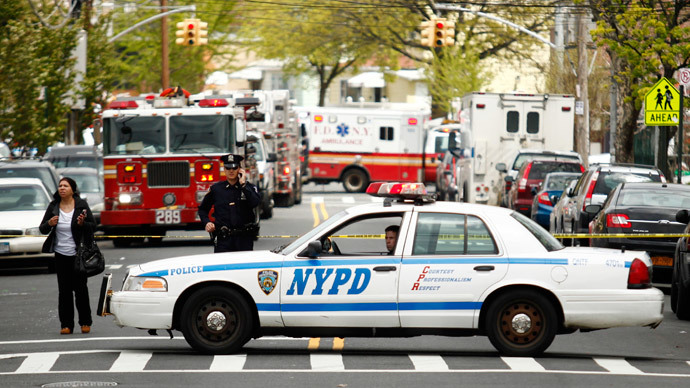 The New York Police Department says seven men have been arrested in connection with threats aimed at police following the fatal shootings of two NYPD officers last week.
The arrests came from the monitoring of online posts, erroneous claims made during 911 calls, direct threats to police, and one case in which a citizen called police after a Queens man allegedly threatened to kill cops in an overheard phone conversation, according to the NYPD and reports.
"All threats against members of the NYPD are taken seriously and are investigated immediately to determine the credibility and origin of the information," an NYPD statement read.
The arrests come after the Dec. 20 slayings of two NYPD officers – Rafael Ramos, 40, and Wenjian Liu, 32 – by gunman Ismaaiyl Brinsley, who was reportedly angered by the ongoing police killings of black men.
Police brutality and racial profiling have been the subjects of nationwide protests after recent grand jury decisions not to indict white police officers who killed unarmed black men in Missouri and New York.
The NYPD said three of the recent arrests came from threats made on social media, including one man who posted photos of weapons on his Facebook page along with threats to kill police officers. Two arrests resulted in misdemeanor charges of false report incidents, or 911 calls claiming threats coming from a third party that were later proved false.
One arrest came from a direct threat to police made via a 911 call to the 84th Precinct – where Liu and Ramos had been stationed. A 41-year-old man asked if he could speak to Ramos and whether the bullets had been removed from the slain officer's head so "he could kill more cops," according to NYPD spokeswoman Sophia Mason.
The most dramatic of the seven arrests occurred on Wednesday, when a man was overheard threatening to kill cops before Christmas.
"They should have killed two white cops, instead of a Hispanic and an Asian, if the guy really wanted to send a message," Elvin Payamps, 38, allegedly said during a phone conversation he had inside a TD Bank branch in Middle Village, Queens.
"I'm going to kill another cop," he said, prosecutors alleged. "Another cop should be killed before Christmas. It should be a white cop."
The conversation was overheard by Charles Otero, 54, according to the New York Daily News, who then phoned in a tip to the NYPD. Soon after, Payamps was spotted by police at a nearby mall. As he was exiting the mall, he was pulled over by police, who say they found a small bag of marijuana in the car.
With his wife's permission, police searched Payamps' home in Glendale, Queens. Investigators found a 9-millimeter semiautomatic pistol loaded with eight bullets, a 12-gauge shotgun that was missing its serial number, and two bulletproof vests – one of which was labeled Brooklyn Detention Center, according to the New York Daily News.
Payamps was charged with three counts of criminal possession of a weapon, unlawful possession of marijuana, and aggravated harassment regarding threats made over the phone, according to The New York Times.
"He was one step away from making good on his word," prosecutor Talia Seidel said in court, according to the Daily News.
Payamps' appointed attorney said the incident could be a case of hearsay.
"When people overhear things, sometimes they don't hear it right," said Carol Siegel.
Payamps' bail was set at $500,000.
New York City Mayor Bill de Blasio praised the arrest in a series of tweets.
"Thank you to the NYPD officers who today arrested a man who threatened to kill cops, and the good Samaritan who provided key information," he said in one tweet.
De Blasio – who has offered mild criticisms of some NYPD actions, such as the July choking death of Eric Garner in Staten Island, and who campaigned last year on curbing abuses of the NYPD's racially-biased stop-and-frisk program – has drawn the ire of current and former NYPD officers and police supporters, especially since the shooting deaths of Ramos and Liu.
The mayor's detractors say that his criticisms of police tactics have exacerbated anti-police sentiments that flared following the Staten Island grand jury's decision not to indict officer Daniel Pantaleo for the death of Garner – a decision that led to ongoing protests in New York and elsewhere. De Blasio called for a moratorium on police protests after the NYPD officers were killed, though that request was largely ignored.
On Friday, current and former NYPD officers paid for a banner to fly along the Hudson River which says: "De Blasio, our backs have turned to you."
NYPD officers fly banner along Hudson River: "de Blasio, our backs have turned to you" http://t.co/jDhh2LaZh3pic.twitter.com/CE7slhwqWR

— NBC Los Angeles (@NBCLA) December 26, 2014
You can share this story on social media: