US woman charged with promoting ISIS on Facebook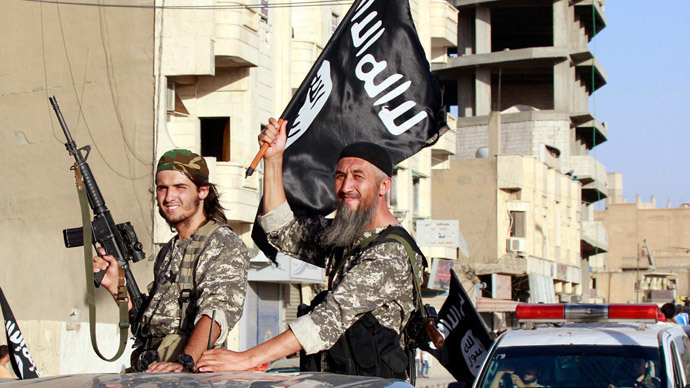 A 29-year-old US mother has been arrested after seven months of undercover investigation of alleged ISIS recruitment activities. Federal authorities accuse her of supporting the Islamic State and offering help to join the terrorist group in Syria.
Heather Elizabeth Coffman of Virginia, a mother living with a seven-year-old kid and her parents, first appeared in federal court on Monday, according to court documents. She was charged with making a false statement regarding an offense involving international or domestic terrorism, AP reports.
Coffman did not only offer to help an undercover FBI agent connect his friend with the Islamic State (IS, formerly ISIS/ISIL) in Syria, but also lied about this fact to investigators last week, according to a federal affidavit. However, it remains unclear whether she really had contacts with the group.

"As far as I know she hasn't traveled anywhere. Her connections with the outside world would be on the internet," Mark Henry Schmidt, Coffman's defense attorney said. "I imagine you can get into trouble on the internet, but I imagine you can also think a lot more's going on than really is. If nothing else, this is certainly a cautionary tale about the internet."

FBI agents noticed postings on the woman's several Facebook accounts and started the investigation around April this year. According to the affidavit, on June 23, Coffman, using the name Ubeida Ametova, posted two images with the following text: "We are all ISIS, Islamic State of Iraq & Sham." On June 28, she explained her postings, supportive of the militants, with the words "I love ISIS!"

In July, an FBI agent contacted her on Facebook, pretending to possess views similar to hers, and several months later told her about an acquaintance who wanted to fight alongside ISIS in Syria. Coffman allegedly promised to help, but suspecting that she might be under surveillance, she developed a code system for communication.

Coffman even tried to find support of her views within her family and to persuade her sister to develop the same interests. Later she wrote in the affidavit, "My dad is a little angry because I got her into all this jihad stuff."
READ MORE: 5 Brits join ISIS each month, 1 dies every 3 weeks
The next hearing is to take place on Wednesday, and until then Coffman will be held in custody. She was arrested on Friday after a Thursday interview at her job, where she denied that the undercover agent, who had contacted her, had shown any support for terrorist activities.

The Islamic State's activity on social media has influenced people from the US and Europe, as well as Australia, to join the ranks of its militants.

Last month, three US teenagers were detained at a German airport, as they tried to join ISIS, having stolen their parents' money. According to a school official, the girls were victims of an "online predator." Two months ago, a 19-year-old girl pleaded guilty to trying to connect with a man she met online in an attempt to help ISIS – she had also attempted to fly to Turkey.

Also in September, a 30 year-old New York State man was arrested for aiding the IS. He allegedly helped three people travel to Syria to fight alongside with IS militants. What's more, he was believed to have been plotting a murder of US military returning home from the Middle East.