Nano drone swarm: Advanced tiny quadrotors stabilize mid-air, fly in strict formation (VIDEO)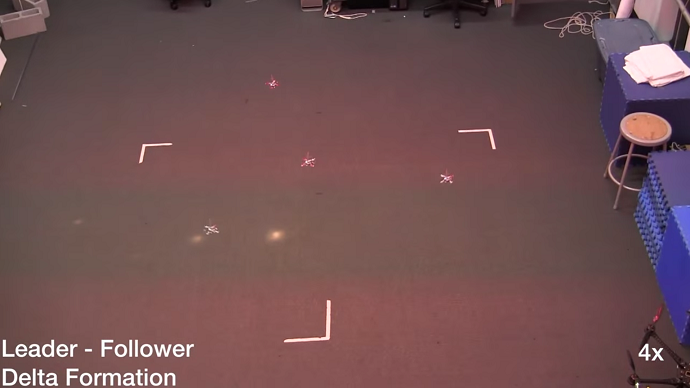 New and improved tiny quadrotors can now sustain collisions in mid-air and fly in leader-follower formations, protecting the head of the pack, according to a new research video released by University of Pennsylvania's GRASP Lab.
READ MORE: Hawk 1, Drone 0: Bird of prey attacks quadcopter, takes down from skies (VIDEO)
Only 0.11 meters in size and weighing just 25 grams, the robots can fly up to six meters per second.
New video shows robust collision resistance during flights. At one point, two robots are shown crashing into each other during flight and still manage to continue on with their mission.
During another test, researchers are shown playing ping-pong with two of the robots. Another clip shows robots crashing into columns and other objects without sustaining too much damage.
Their most unique feature, however, is the strict flying formation. The leader-follower formation consists of three followers and one pack leader, which fly in a triangle formation with the leader based in the center.
The followers are able to mimic the leaders' movements precisely in real-time, keeping the formation intact at any point during flight.
The size of the protective perimeter around the leader can also be changed via remote-control.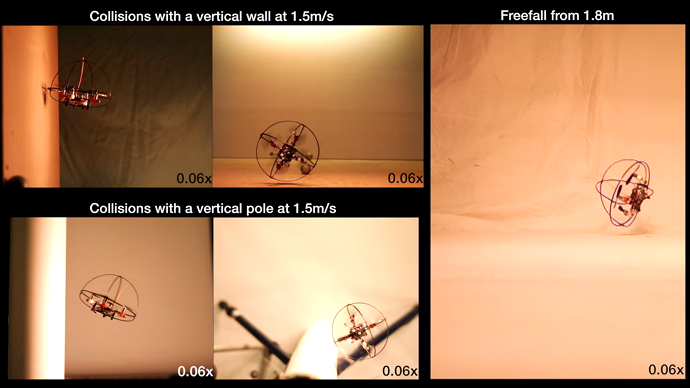 "The project was started earlier this year with the design and development of the pico quadrotor. I've designed the robot from the ground-up, right from the circuit boards to the software to control it," one of the researchers behind the project, Yash Mulgaonkar, told TechCrunch.
The robots would be ideal for future work in search and rescue, first response, and law enforcement fields due to their "ability to fly through unstructured, constrained, 3-D environments," Mulgaonkar said, adding that they enable humans to obtain information about potentially dangerous or inaccessible locations.
Another cool feature is that each robot has its own set of sensors, which free it to fly and make direction decisions in real-time, without the need to be connected to a computer. But, some help is still required while performing formation flight and obstacle avoidance maneuvers.
The original models were shown off in 2012, when GRASP Lab showcased a network of 20 nano-quad rotors. Even back then they were already capable of agile flight, and able to swarm and navigate in an environment with obstacles.
READ MORE: US military surveillance future: Drones now come in swarms?
You can share this story on social media: