Extremely loud & incredibly close: Drone captures Iceland volcanic eruption (VIDEOS)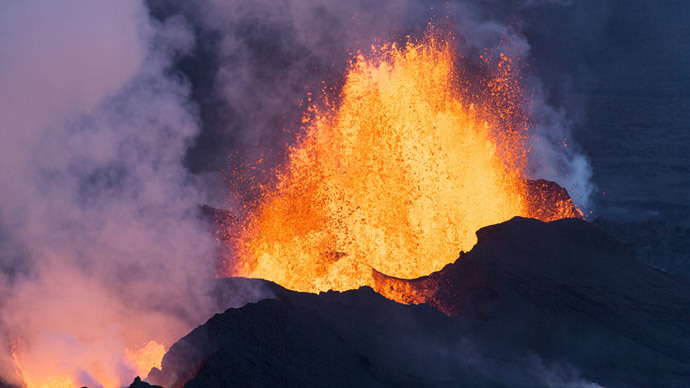 Volcanoes from tiny Iceland never fail to stun people across the globe. A quadcopter with a camera was lucky enough to get extremely close to the erupting Bardarbunga – so close that its front melted.
Such technology has made massive strides since a gigantic cloud made of Eyjafjallajokull's volcanic ash forced European airspace to be shut in spring 2010, allowing this year's Bardarbunga's eruption to be filmed by the quadcopter.

Bardarbunga, the second highest mountain in Iceland, had been slowly preparing for the eruption since 2007. It started belching lava in August 2014.
Eric Cheng – director of aerial imaging for drone maker DJI – and photographer Ragnar Th. Sigurdsson managed to reach the eruption site in the southeast of Iceland on September 20, when the danger of being exposed to poisonous gases was expected to be minimal, Wired reported.

After a flight to the Icelandic capital Reykjavik, Cheng and Sigurdsson made the 12-hour journey to the launch point. They had a permit to get as close as they needed to in order to send a drone to film footage of the eruption – about two kilometers from the main caldera.

"One of the policemen came over to us and said, 'We checked the rules, and vehicles can't drive closer. However, you could theoretically walk closer. I have to inform you that we officially do not recommend this, because it's dangerous,'" revealed Cheng.

The trip was not entirely seamless.

Cheng wanted to film during the nighttime to get more eye-catching footage. He hiked closer to the eruption site at sunset to manually deliver the drone, which was continuously losing video signal and control as it flew over the lava vent.

In the end, when the quadcopter returned, Cheng noticed that the front of the camera had melted from the heat. Fortunately, the memory card was unharmed.

In the video that tells the full story of the filming process, Cheng said: "The fact that you can take a one thousand dollar flying camera and put it in the middle of an erupting volcano to capture wide angle views of this giant bowl of molten lava which is exploding and throwing lava 150 meters or so into the air is pretty amazing."
The latest Bardarbunga eruption started on August 16, with 1,600 low-level earthquakes on that day, located under the Vatnajokull glacier. It is not over yet, and some scientists believe the volcanic activity in Holuhraun lava field could continue for a year.

The land of fire and ice, Iceland is the only place in the world where a mid-ocean ridge rises onto dry land, making it one of the most volcanically active places on the globe.
You can share this story on social media: