Sub-glacial eruption of Iceland's volcano forms row of 'cauldrons'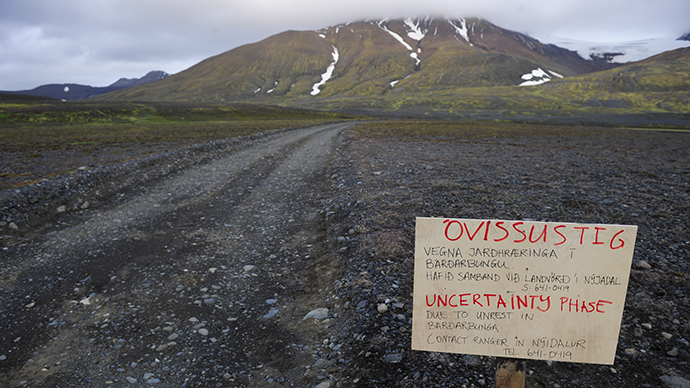 Icelandic volcano activity increased on Wednesday, with scientists detecting 10-15 meters deep cauldrons of melted ice at the Vatnajökull glacier, prompting fears of an imminent eruption.
Icelandic scientists have detected a series of 10-15m deep cauldrons at Bardarbunga volcano glacier. They apparently are a result of melting following a sub-glacial eruption, the Icelandic Civil Protection Scientific Advisory Board reported. A surveillance flight over the surface of Vatnajokull has shown the cauldrons to be 1 km wide, located in a straight line some 4-6 kilometers south of the Bardarbunga caldera.
The 10-15 m deep cauldrons, 1 km wide, south of the #Bárðarbunga caldera. Picture by https://t.co/ZiKocZlLJSpic.twitter.com/lSLWDJZnEO

— Almannavarnir (@almannavarnir) August 28, 2014
"The cauldrons have been formed as a result of melting, possibly a sub-glacial eruption, uncertain when," country's Meteorological Office said, pointing out that the data is still being analyzed.
"During the night (Wednesday) we have had three larger events, two of them in the Bardarbunga caldera. Those were 5.2 and 5.3, and very similar to the events that we have seen there before," Palmi Erlendsson, a geologist at the Met Office told the country's RTE news.
At the same time, scientists have registered more than 1,300 earthquakes since midnight Wednesday. Meanwhile 50km to the north, a 4.5 magnitude quake shook the Askja volcano, presumably because magma from Bardarbunga crater is traveling in that direction.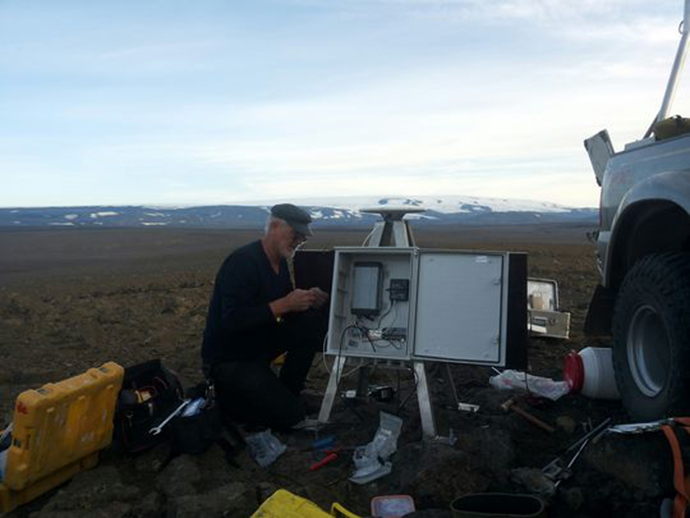 With less than 15km remaining before magma reaches Askja, Erlendsson fears that both volcanos may erupt instantaneously.
"That would not be as dangerous ... in terms of ash," he said. "But it's impossible to say what will happen," he added.
Kort sem sýnir staðsetningu sigkatlanna. Map showing location of depressions spotted in glacier today. #Bardarbungapic.twitter.com/8g47CKotHe

— Fréttastofa RÚV (@RUVfrettir) August 28, 2014
Scientists believe that about 20 million cubic metres of magma was added to the volume of the intrusion in the last 24 hours, with the Met Office reporting "no indications that the intensity of the activity declining."
Reykjavik continues to impose 'orange' level Aviation Colour Code over its airspace, which the country introduced on Sunday.
In 2010, a volcano, with the nearly-impossible-to-pronounce name – Eyjafjallajoekull, erupted in Iceland, producing a giant cloud of ash that severely disrupted air travel, costing airlines millions of dollars.
More than 100,000 flights were canceled due to the eruption and 10 million people were left stranded after aviation officials were forced to close Europe's air space for five days due to fears the ash could harm jet engines.