Drone nearly collides with NYPD helicopter, man arrested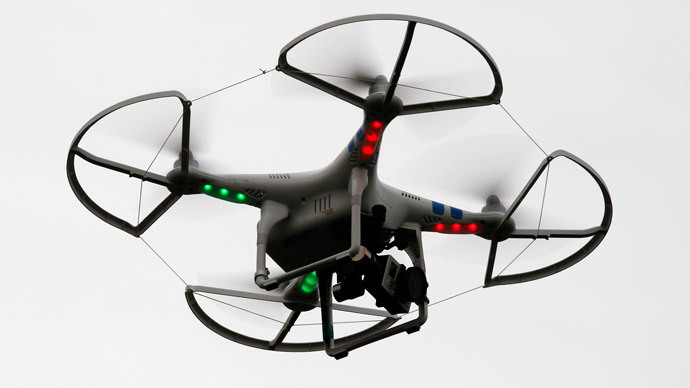 A Brooklyn man has been arrested and charged with reckless endangerment for flying his GoPro-equipped drone too close to a New York Police Department helicopter.
The police helicopter was flying over Brooklyn as officers searched for a missing teenager early Wednesday morning. The unmanned aerial vehicle (UAV) came within 50 feet of the aircraft.
"That's when the helicopter had to suddenly change course," police toldCBS.
READ MORE: Supreme Court justice warns of drones creating 'Orwellian' future
Local resident Isaac Rosa was then arrested for illegally operating the drone, which was outfitted with a GoPro camera. He was charged with reckless endangerment and obstructing government administration on Wednesday, CBS reported.
The man was later arraigned and released on a bail of $1,500.
"I am very disappointed that they are trying to make an example out of me," Rosa told the New York Post. "At the end of the day, this is not an illegal activity."
New York Police Commissioner Bill Bratton said at a swearing-in ceremony in July that he was concerned about the "terrorism component" regarding drones, raising concern over the idea of "somebody out there effectively joyriding with the drone."
"I don't care if that's through a drone or on the ground," added New York Mayor Bill de Blasio at the time. "It's a common-sense matter: when you see an NYPD vehicle, an NYPD helicopter, stay out of the way."
The government may be the most well-known user of drones, but private businesses and individuals are also expressing a lot of interest in UAVs. Scientists, real estate companies, and advertising groups are increasingly using them in their work, as well as amateurs and artists who are interested in exploring the new devices.
READ MORE: New Yorker arrested for flying drone over US Open
The trouble is that legislation regarding their use is currently imprecise and vague.
The Federal Aviation Administration is drawing up laws concerning the use of drones, but those are not expected until September 2015. One of the few guidelines outlined is dubbed the "model aircraft" policy, which prohibits the operation of the remote-controlled devices within five miles of an airport without first obtaining permission.
Under the same rules, drones cannot be used anywhere for commercial purposes, and can be flown by hobbyists only inside parks, no higher than 400 feet, and within sight of their operators, according to the New York Post.
Other people have also been arrested and charged for operating drones. Earlier this month, a man was arrested for piloting a drone near the US Open at the National Tennis Center in Queens.
Two men were also arrested and charged with reckless endangerment in July for flying drones near the George Washington Bridge, when those also nearly collided with an NYPD helicopter.
READ MORE: US scientists working on mind-controlled drones for military use