New Yorker arrested for flying drone over US Open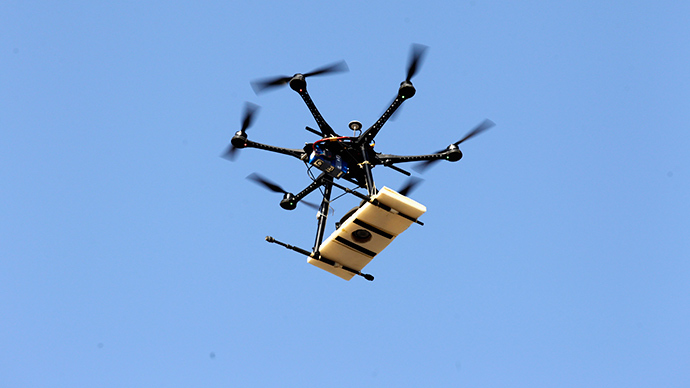 Police in New York City arrested a man this week accused of piloting a hobbyist drone in the sky above a US Open tennis match.
According to CNN, the New York Police Department arrested 36-year-old Daniel Feighery on Wednesday evening after he allegedly guided the unmanned aerial vehicle into the National Tennis Center where a quarter-final match between Serena Williams and Flavia Pennetta was underway.
Feighery was outside the venue's main gate, the NY Post reported this week, when police spotted him and ordered him to reel back in his UAV. Police then took the man into custody and brought him to a Queens precinct where he was charged with multiple counts related to the incident.
New York City Police detective Martin Speechley told CNN that the drone was hovering above two empty tennis courts at around 9 p.m. on Wednesday evening as the nearby match occurred, and that officers were able to apprehend Feighery before the game was over.
According to the network, Feighery was charged with reckless endangerment, violent of a local law and failure to comply with a sign. The UAV was confiscated as well.
"It's not known what the sign said," Morgan Winsor wrote for CNN.
Last month, National Public Radio reported that while the Federal Aviation Administration does allow drones in most airspace if kept under 400 feet from the ground, New York City is largely an exception — particularly with regards to what Feighery was accused of doing.
"NYPD spokesperson Brendan Ryan says individuals could potentially be charged with reckless endangerment in New York City if, for example, an individual with a camera flies a drone into a stadium," NPR reported. "But an FAA spokesman also says big, congested cities like New York are completely off-limits to drones. Unmanned aircraft are not authorized to fly in what it calls Class B airspace."
One month earlier in July, the NYP arrested two Manhattan men and charged them with reckless endangerment after a drone they're alleged to have piloted came within 800 feet of a police helicopter near the city's history George Washington Bridge.
"We support the use of this technology, but we support its responsible use," Daniel B. Schwarzbach, the executive director of the Airborne Law Enforcement Association, told the New York Times then. "Just go onto YouTube and you'll see tons of examples of people using these things irresponsibly: flying at altitudes of more than 400 feet or flying over bridges."
Charles Schumer, a democratic senator representing the state of New York, said recently that the Big Apple had become a "Wild West" for drones, and asked the FAA to adopt federal rules for the aircraft by the end of the year. The federal agency expects that thousands of UAVs will dominate US airspace by the end of the decade.
You can share this story on social media: