Hawk 1, Drone 0: Bird of prey attacks quadcopter, takes down from skies (VIDEO)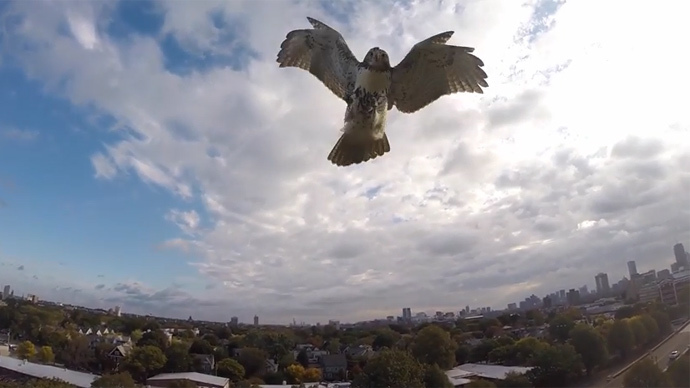 An irate hawk reclaimed its patch of sky from an antagonistic drone this week in Cambridge, Massachusetts, knocking the buzzing recording device out of the sky as easily as its normal prey.
YouTube user and software developer Christopher Schmidt had been flying the Phantom FC40 quadcopter drone around the city's Magazine Beach Park, when the giant bird of prey took exception to his activities. In Schmidt's words, the bird "wasn't too happy" with its presence.

The footage shows the predator skillfully swooping into the camera before swiping at it with its enormous talons and knocking it out of the sky.

"As soon as he flew at me, I throttled down the props to try to minimize any harm to the bird," Schmidt wrote alongside his upload of the video on YouTube.
The drone then tumbles to the ground and rests upside down on the park's football pitch.

"As far as I could tell, the juvenile red-tailed hawk came out unscathed, and having defeated his prey, was happy to retreat," Schmidt said.

This isn't the first time that local wildlife has attacked invasive drones. In June 2013, researchers at the University of Maryland, funded by the US Army, faced a similar problem. The lifelike Robo-Raven – the wings of which can flap independently of each other – was also attacked by a hawk on one of its flights.

Last December, YouTube user Buddhanz1 also filmed a scenario where a whole flock of birds dive-bombed his DJI phantom drone.
You can share this story on social media: