Obama condemns killing of photojournalist James Foley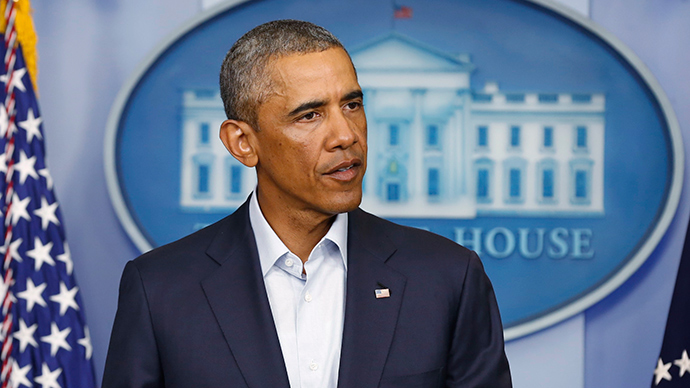 United States President Barack Obama condemned the gruesome videotaped killing of American journalist James Foley Wednesday afternoon in a statement from Martha's Vineyard.
"Today the entire world is appalled by the brutal murder of James Foley by the terrorist group ISIL," Pres. Obama said during a live address from the Massachusetts island, where he resumed his vacation late Tuesday after unexpectedly returning to the White House earlier this week.
Hours before Pres. Obama returned to Martha's Vineyard, an online video surfaced purported to show the beheading of Foley, a photojournalist, being carried out by members of the Islamic State, formerly known as ISIS or ISIL. The group controls vast swaths of land in Iraq and Syria (or the Levant). On Wednesday morning, the National Security Council confirmed the authenticity of the footage.
"The US Intelligence community has analyzed the recently released video showing US citizens James Foley and Steven Sotloff. We have reached the judgment that this video is authentic. We will continue to provide updates as they are available," National Security Council spokesperson Caitlin Hayden said in a statement.
The video alleged that the killing was caused by the latest round of US military strikes waged at Islamic State militants in northern Iraq. Solemnly, Obama said Wednesday that he is "heartbroken" by the news and described the militants' actions as an "act of violence that shocks the conscious of the entire world."
"Let's be clear about ISIL," the president said. "They have rampaged across cities and villages, killing innocent unarmed civilians in cowardly acts of violence. They abduct women and children and subject them to torture and rape and slavery. They've murdered Muslims, both Sunni and Shia, by the thousands. They target Christians and religions minorities, driving them from their homes, murdering them when they can, for no other reason than they practice a different religion."
"No just god would stand for what they did yesterday and for what they do every single day," Obama added.
Foley disappeared while covering the Syrian civil war as a freelance photographer on November 22, 2012. The 39-year-old reporter was working for Agence France-Presse when he disappeared, and his whereabouts were essentially unknown until the recording surfaced on Tuesday.
His November 22nd disappearance was classified as a kidnapping by the FBI, which stated he "was taken by an organized gang after departing from an internet café in Binesh, Syria."
The family of James Foley confirmed the journalist's death on a webpage that had been devoted to securing his release. His mother, Diane Foley, said in a statement that her son "gave his life trying to expose the world to the suffering of the Syrian people."
On Wednesday, Obama saluted Foley for telling the stories of the Syrian people, whom he said "did not deserve to live under the shadow of a tyrant or terrorist."
"The US will continue to do what we must do to protect our people. We will be vigilant and we will be relentless," Obama added, insisting that, with regards to the Islamic State, "There has to be a common effort to extract this cancer so that it does not spread."
You can share this story on social media: