Richard Engel and NBC crew freed from captivity in Syria
Published time: 18 Dec, 2012 17:03
Edited time: 18 Dec, 2012 21:03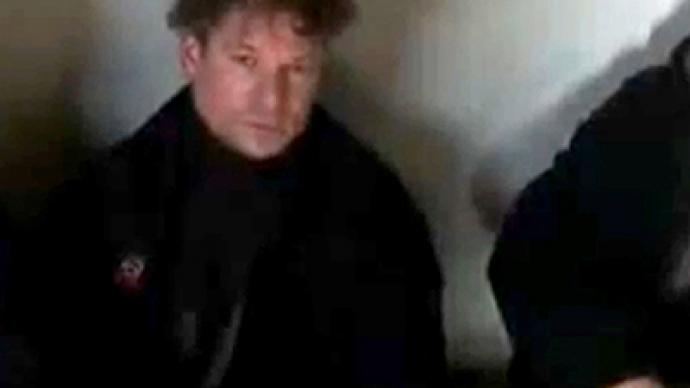 Four journalists from NBC News have escaped safely after being held in captivity in Syria for five days.
NBC News confirmed early Tuesday that chief foreign correspondent Richard Engel and three other crew members are free nearly a week after being captured while on assignment overseas.
According to the organization, Engel and his colleagues were detained on Thursday while trying to move into Syria from Turkey. During the botched entry, kidnappers reportedly blindfolded the journalists and tossed them into the back of a truck.
There was "no claim of responsibility, no contact with the captors and no request for ransom during the time the crew was missing," NBC reports, although Mr. Engel recalled being held by Shiite militants that were "talking openly about their loyalty to the government" of Syrian President Bashar al-Assad.
Five days after being caught, Engel says the crew managed to escape while being moved from one location to another. The journalists were being transferred Monday evening "when their captors ran into a checkpoint manned by members of the Ahrar al-Sham brigade, a Syrian rebel group," NBC reports. "There was a confrontation and a firefight ensued. Two of the captors were killed, while an unknown number of others escaped."
Engel reported live from Turkey Tuesday morning to appear on NBC's "Today" show.
"It's good to be here," Engel said during the broadcast. "I'm happy we're able to do this live shot this morning."
The identities of the other NBC employees who were detained have not been released by the organization, but the New York Times claims sources close to the matter confirm that all crew members have been safely accounted for. It is unknown if any security forces were accompanying them at the time of their kidnapping.
On Tuesday, the Times admitted that were among a number of news organizations who purposely refrain from publishing any information regarding the disappearance out of concern that doing so would increase the likelihood that the journalists would be injured by their captors.
The Committee to Protect Journalists reports this week that 28 journalists have been killed so far this year in Syria. Should the murder rate continue, the CPJ says the total number of media fatalities related to Syrian conflict could exceed the death toll from the height of the war in Iraq.
"Syria was by far the deadliest country in 2012," the CPJ concludes. Roughly four out of every ten journalism fatality this year as occurred as a result of the Syrian conflict.
On Sunday evening, NBC News colleague Brian Williams said of Engel, "he's fearless, but he's not crazy."