Four Italian journalists abducted in Syria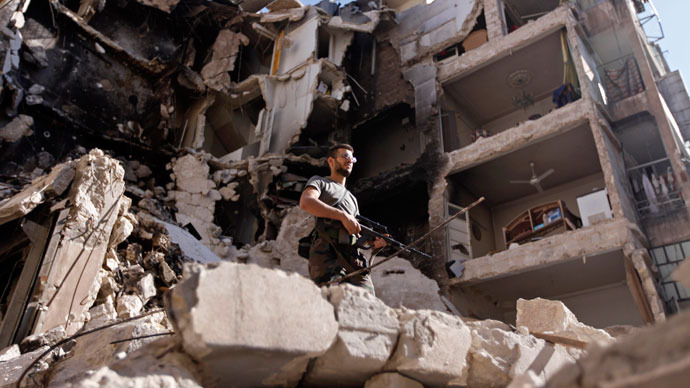 Four Italian journalists have been kidnapped in the north of Syria, on the border with Turkey. The war-torn country is being described as the world's most dangerous place for journalists.
The Italian Foreign Ministry has confirmed the report "indicating that it has followed the developments from the very beginning," according to the ANSA news agency. It also called for "maximum discretion," stressing that "the physical safety of the hostages remains the absolute priority."

The ministry added that their families have been informed.

One of the abducted journalists works for RAI news channel, while the other three are freelancers, according to Corriere della Sera newspaper. The paper identified the journalists as Amedeo Ricucci, Elio Colavolpe, Andrea Vignali and Susan Dabous, adding that they were apparently abandoned by their guides as they crossed into Syria.

La Repubblica newspaper said they were kidnapped "by a rebel group" while out filming.

The incident occurred in the same border area where American freelance journalist James Foley was abducted in November, 2012.

Journalists are becoming an increasingly frequent target for abductions for religious, political or purely financial reasons in war-torn Syria.

In a fortunate turn of events, a Ukrainian journalist Ankhar Kochneva recently escaped Syrian rebels after five months of captivity. Kochneva walked for 15 kilometers in a mountainous area, before she met people who helped her to get to the region controlled by the Syrian army.

On Tuesday, the Syrian government offered kidnappers an amnesty deal, giving them 15 days to hand over victims or face sentences ranging from life with hard labor to execution, if their victims were murdered or sexually abused, AFP reports.

The bloody civil war in Syria that started back in March 2011 has already taken the lives of more than 70,000 people, according to UN estimates. The Committee to Protect Journalists described Syria as the most dangerous place in the world for journalists in 2012, with 28 killed, 15 imprisoned and 21 abducted. The total journalist death toll now tops 36 lives.

You can share this story on social media: